Tribal Government & News
How big can Grand Ronde become? Water supply is plentiful for future growth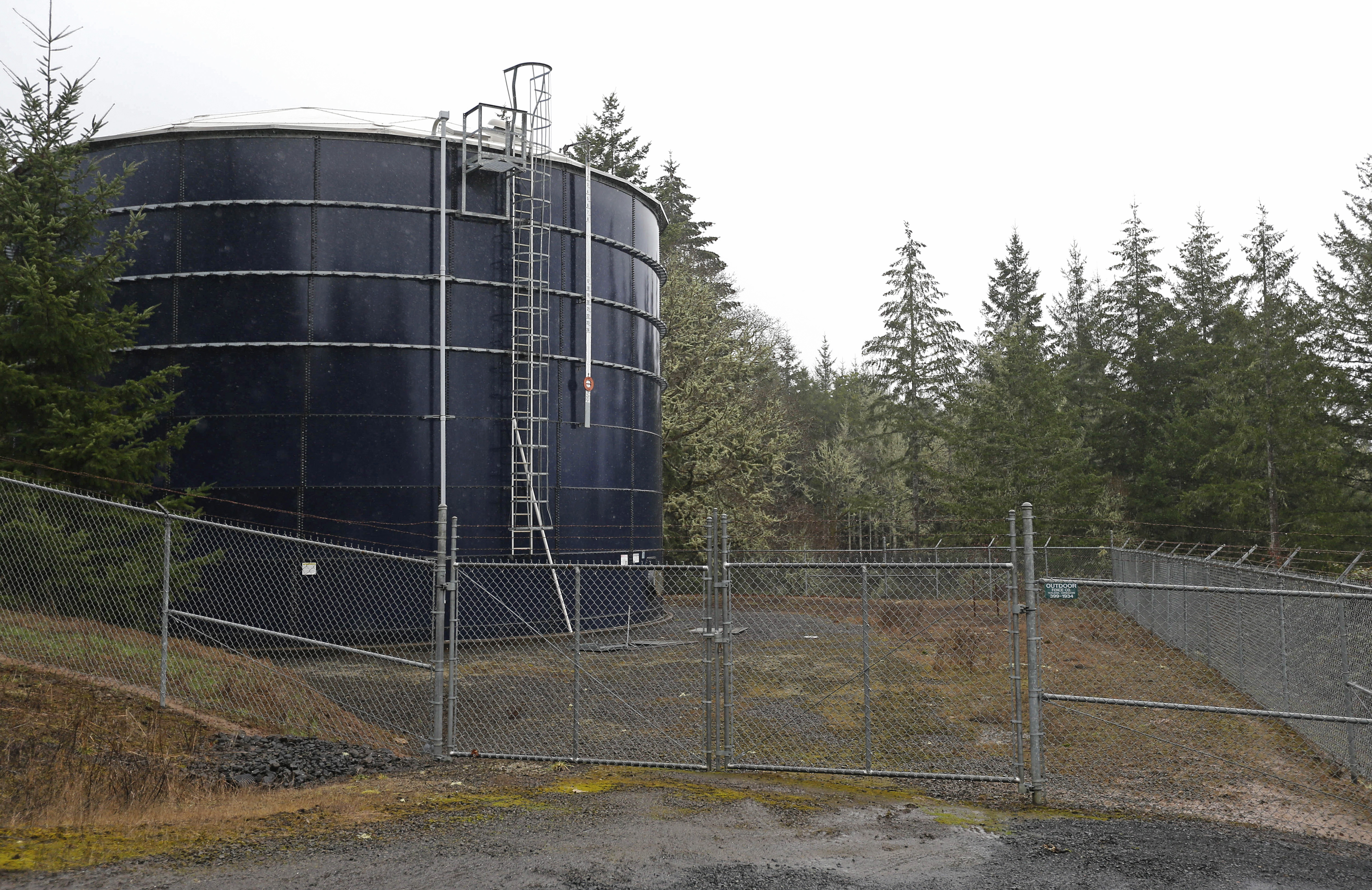 (Editor's note: This is the first in a series of Smoke Signals stories in 2019 that will examine the infrastructure of Grand Ronde and how many Tribal members could conceivably return to live in the community safely and comfortably.)
By Dean Rhodes
Smoke Signals editor
Regarding the Grand Ronde Tribe's Strategic Plan-stated goal to "attract new Tribal members, diversify and grow the population, and promote a healthier, sustainable community," one thing it doesn't need to fret about is the most elemental commodity – water.
Tribal lands are located within the boundaries of the Grand Ronde Community Water Association, where there's plenty of water, and water rights, to fulfill the needs of current and future population growth into the foreseeable future.
The association, incorporated in 1973, has water rights to more than 691 gallons per minute – approximately 363 million gallons a year – and is currently using 225 to 500 gallons per minute depending on seasonable demand.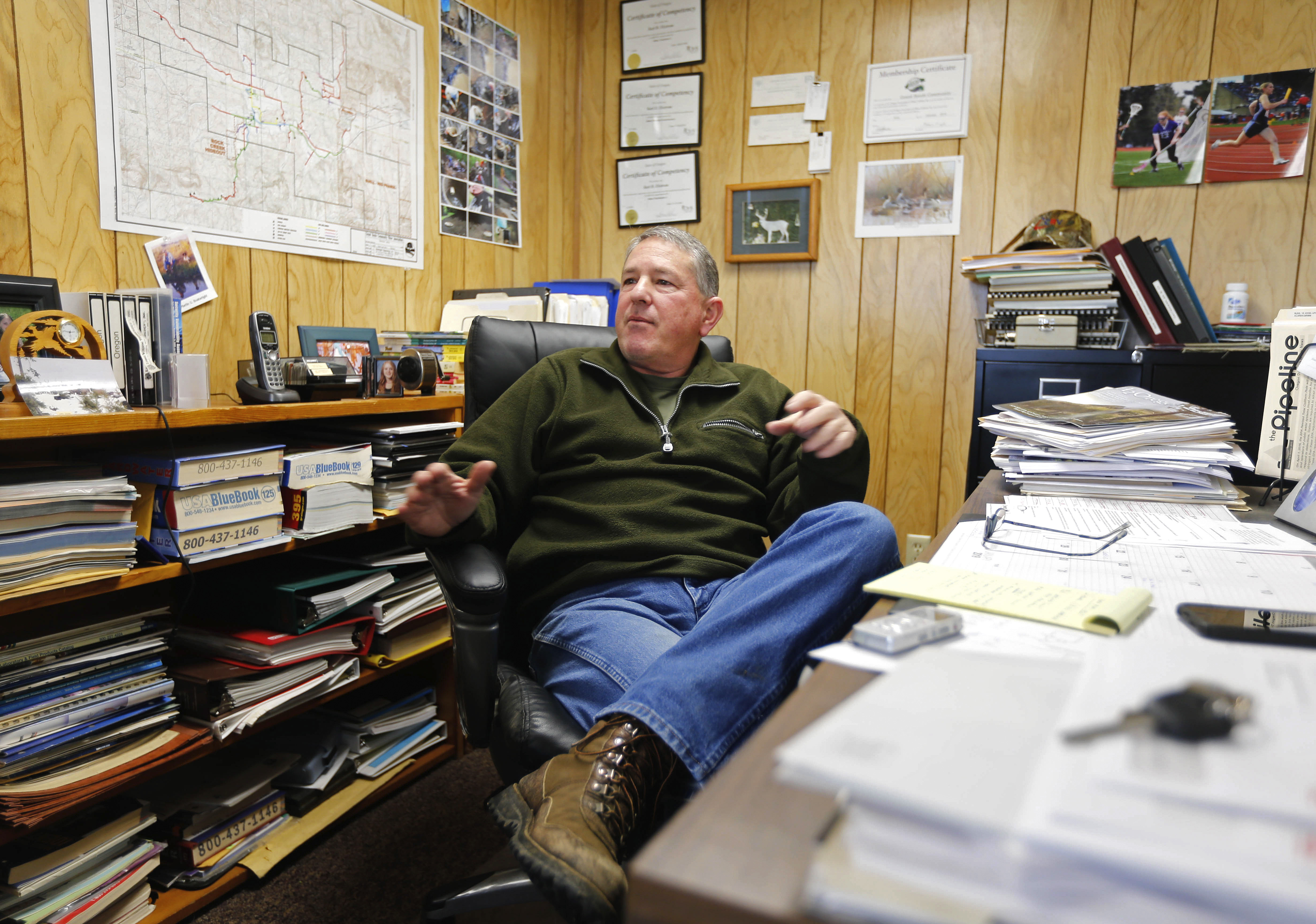 Karl Ekstrom, manager of the Grand Ronde Community Water Association, is interviewed in his office on Thursday, Jan.17.
Water Association Manager Karl Ekstrom shrugs his shoulders during a recent interview in response to the Tribe's plans through 2020 to build two new apartment buildings, develop the southwest corner of Grand Ronde and Hebo roads for 24 more Elder housing units and construct a new building for the Information Systems Department; a total of 27 new water connections.
"We have plenty of water rights to grow," Ekstrom says in the Water Association's office off Salmon River Highway east of the casino. "We have never run out of water, ever."
The Grand Ronde Community Water Association started with 250 members who purchased the water right from Long Bell Fiber.
The nonprofit water cooperative was funded with Farm Home Administration loans and engineered by Boatwright Engineering of Salem. It originally had 40 miles of pipeline, two storage tanks and water intake from four springs located approximately six miles south of Highway 18 that are in about 25,000 acres of private timberland.
Today, the Water Association has grown to serving 960 members, has more than 50 miles of pipeline and seven storage tanks that can hold 2.16 million gallons of water. Its $510,000 annual budget pays for Ekstrom and two other full-time employees.
Ekstrom says Water Association engineering estimates put the potential maximum number of connections at 1,900 – almost double the current number.
Where does the water come from?
The local water supply starts at four 6- to 15-foot-deep springs located south of Spirit Mountain Casino at about 1,900 feet in elevation. Three new nearby springs are currently undergoing testing before being put online.
Water is gravity fed through three 1,000-gallon pressure reducing tanks as it flows downhill.
From there, the water is stored in two tanks with a combined capacity of 980,000 gallons at Reid, a 150,000-gallon tank at Rowell Creek, two tanks with a combined 489,000-gallon capacity off Fort Hill Road, a 500,000-gallon tank off Salmon Creek Highway directly north of the casino and a 50,000-gallon storage tank off Hebo Road west of the Grand Ronde Road intersection.
The Tribe constructed the Salmon Creek Highway storage tank in 1994 to help ensure fire protection at the casino and an adequate water supply for the community. In 1997, the Tribe installed a 12-inch water main underneath Grand Ronde Road, which Ekstrom says should be sufficient for fire flow and domestic needs for quite some time. An 8-inch line extends from Grand Ronde and Hebo roads north to the Lighthouse Community Center building.
The Water Association's service area stretches from as far west as the Tillamook County line to as far east as Willamina Creek. It also surrounds the city of Willamina, but does not serve the municipality. Willamina takes its water out of Willamina Creek.
Ekstrom has been working for the Water Association for 26 years after moving to Oregon from the San Francisco Bay area. After a year working for the city of Willamina, he joined the Water Association in 1992 when there were only 400 connections.
Up until 2003, the Water Association also served Spirit Mountain Casino and Lodge, but the inside and outside irrigation demands of that large commercial enterprise put a strain on the water supply. In response, the casino obtained a 55-million gallon annual water right – a former irrigation water right on the Zimbrick property -- to draw water from the South Yamhill River.
The water is treated on site and used by the casino and lodge, Facilities Manager Ron Reibach says. Over the last four years, the casino has used an average of 46 million gallons of its allotted water right.
An intertie exists between the casino and the Water Association to provide the casino with enough water pressure in case of a sudden need, such as fighting a fire.
Beyond population growth at the Tribe, Ekstrom says the next largest area of increasing demand in the Water Association's boundaries is north of Willamina in the Willamina Creek Road and Corbett Acres area.
Tribal concerns
Although there is plenty of water, the Grand Ronde Tribe still has concerns about the supply and quality.
In the draft Strategic Plan, the Tribe is seeking to assert responsible roles in municipal water supply jurisdictions and governing bodies "to provide for Tribal member and CTGR water quality and quantity long-term security."
The Tribe has not had a representative serve on the seven-member Water Association Board of Directors since Public Works Coordinator John Mercier left after three years in 2012.
Also included in the draft Strategic Plan is the goal of completing a water rights legal review and the development of a memorandum for Tribal Council to approve to increase the Tribe's security over its municipal water supply.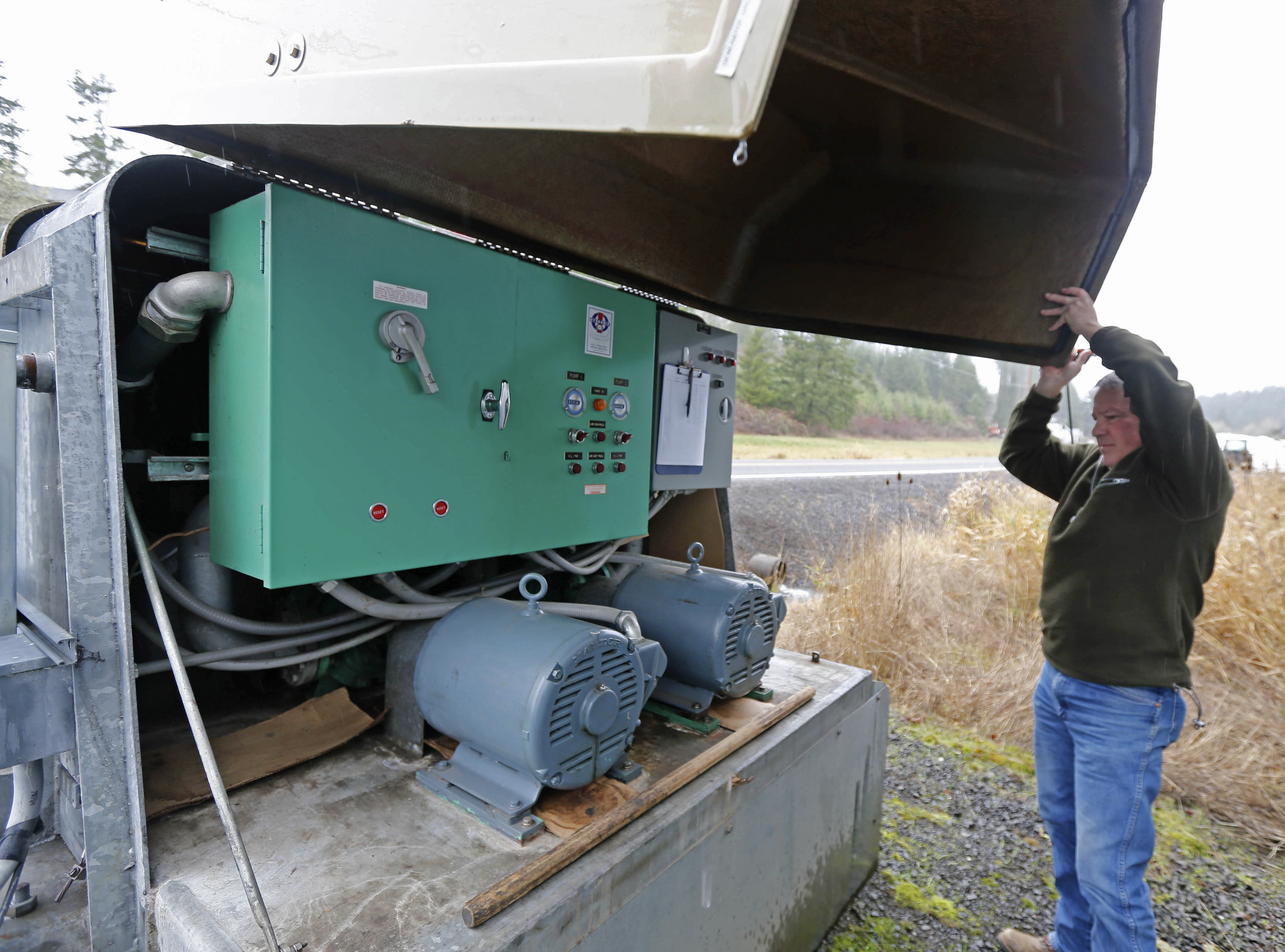 Karl Ekstrom, manager of the Grand Ronde Community Water Association, holds open the cover to a water pump house off of Fort Hill Road on Thursday, Jan.17.
Part of that legal review, Engineering and Public Works Manager Jesse White says, is determining if 10 Tribal irrigation water rights could ever be used for quasi-municipal purposes.
The Tribe also owns five quasi-municipal water rights that total more than 217 million gallons annually. The water is available for use by the casino and lodge, and as a possible backup supply for the Water Association should its source ever be interrupted.
The Executive Office, Tribal Attorney's Office, Public Works Department and Planning Department have been identified as the Tribal entities that will work on Tribal water issues.
Planning Director Rick George says the likelihood of the Grand Ronde Tribe acquiring its own significant water right from the state of Oregon is probably miniscule based on surface water rights downstream, but the Tribe could become more involved with the Water Association by having a representative on the board.
The Tribe also could build a storage tank that would supply Tribal residents when the Water Association issues a drinking water advisory, which it last did in October 2015 when coliform bacteria was detected. It was the seventh straight year that the Water Association detected coliform bacteria in its supply.
To resolve the issue, the Water Association used chlorine to sanitize the storage tanks. The Water Association doesn't disinfect with chlorine or add fluoride to its water on a regular basis.
At the time, Polk County Environmental Health Supervisor Jim Solvedt said that finding coliform bacteria in rural water systems is not unusual since biomass buildup inside pipes is common.
"It's a really good source of water," he said about the Grand Ronde Community Water Association.
Mercier says his No. 1 item from a Tribal strategic planning perspective would be seeing a larger water line tie-in with the 12-inch water line that ends at the intersection of Grand Ronde and Hebo roads, which would create a loop and improve water supplies and fire protection to Uyxat Powwow Grounds and the achaf-hammi plankhouse off Hebo Road.
"That would improve water delivery in leaps and bounds," Mercier says.
But, he adds, the Tribe does not need to consider creating its own municipal water system because of the abundance of water provided by the Water Association.
"When we talk about water delivery and the different types of water delivery that we need for this community, we want to try to create a system that's just safe for our users," Mercier says. "What that really means to us is just working together with the Water Association as we plan for our needs.
"Personally, us just working with Grand Ronde Water is my desirable. They are already structured and in place to deliver water."
Ekstrom says an upcoming pipe replacement project will help ensure the water supply's safety. The $400,000 project will upsize 4-inch pipes near the springs and allow the Water Association to extract more water. Another project will replace a failing booster pump station near Rowell Creek.
"It'll be a safer supply, not that our current supply is unsafe. It'll just make it safer," Ekstrom says. "If you're only talking about a few hundred more homes, (water supply) should never be an issue."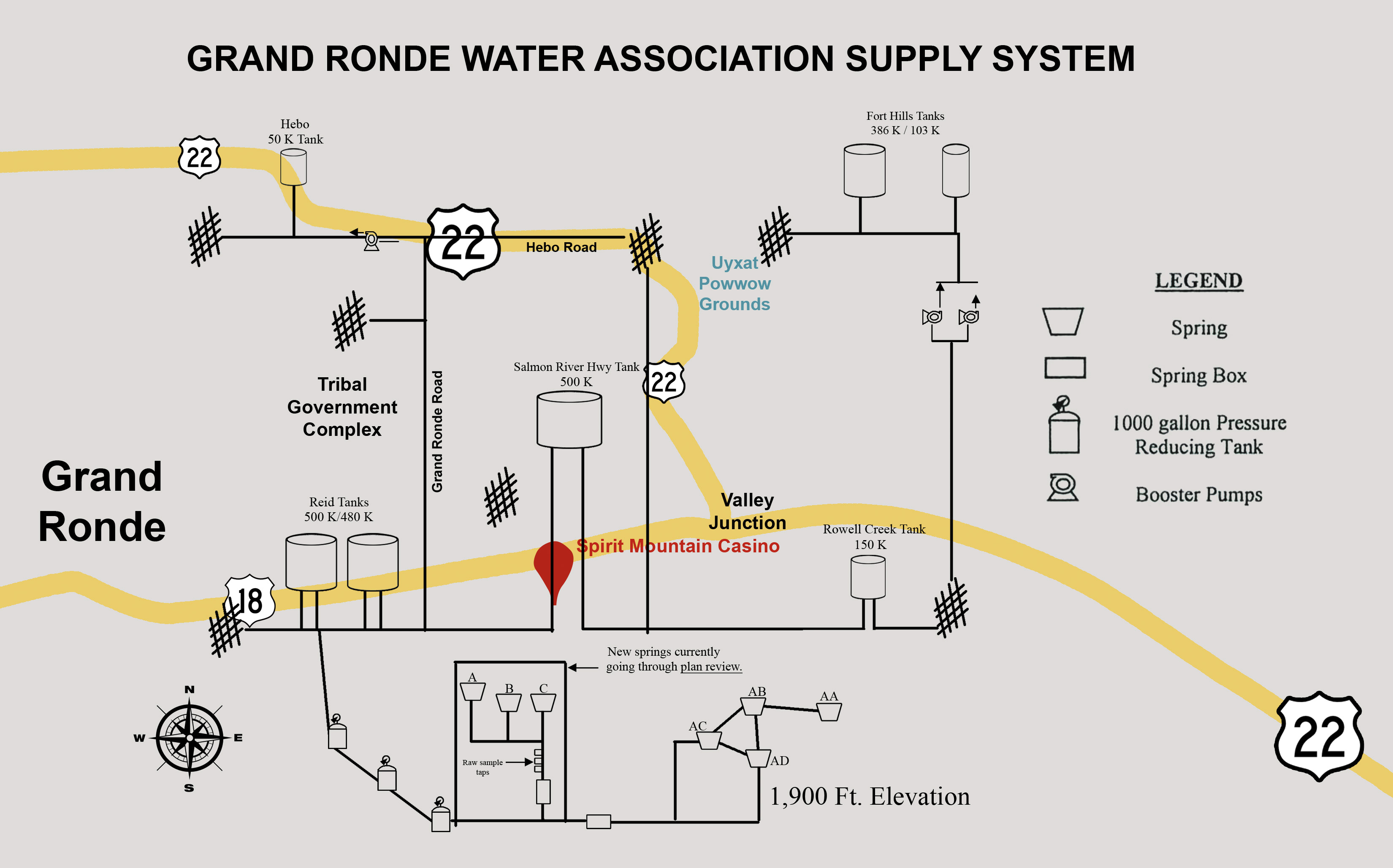 Karl Ekstrom, manager of the Grand Ronde Community Water Association, holds open the cover to a water pump house off of Fort Hill Road on Thursday, Jan.17.
Value cannot be null. Parameter name: source