Tribal Government & News
Children of Tribal Restoration leaders pose for new sculpture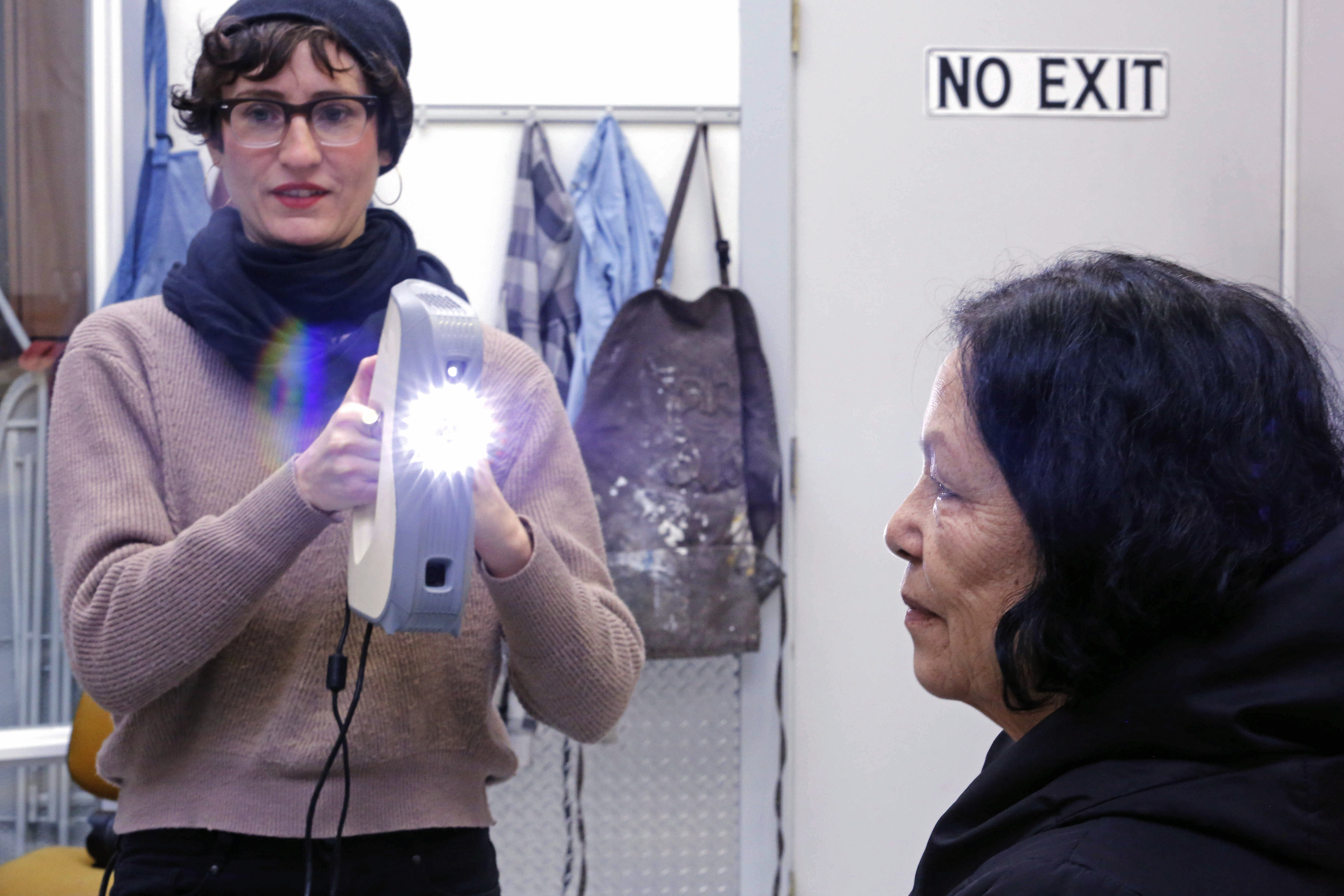 PORTLAND -- Three Tribal members served as stand-ins for their parents, who will be memorialized in bronze for their contributions to the Grand Ronde Tribe's Restoration.
In the early 1970s, Tribal leaders Margaret Provost, Marvin Kimsey and Merle Holmes began efforts to reverse Termination and undertook the arduous task of seeking Restoration as a federally recognized Tribe. After more than a decade of work, the Grand Ronde Restoration Act was signed on Nov. 22, 1983, by President Ronald Reagan.
Their children -- Jackie Many Hides, Duke Kimsey and Jim Holmes -- traveled to Portland's Form 3-D Foundry on Thursday, Jan. 10, to pose for 3-D body scanning and digital remodeling for the bronze memorial "Visionaries."
The memorial is the brainchild of Tribal Council member, Elder and artist Steve Bobb Sr., who unveiled his preliminary design at the Tribe's 35th Restoration Celebration held at Spirit Mountain Casino in November.
"Cheryle (Kennedy) and I talked about it on several occasions," Bobb said. "At the time I kind of filed it away as a 'future project,' but now that they have all walked on I thought, 'Why don't we do a sculpture of them?' I thought it would be nice to have their kids stand in for their parents."
Provost and Kimsey walked on in 2018 and Holmes walked on in 2004.
The life-sized bronze statue of the three Restoration leaders will take approximately four to six months to complete, and will be located in front of the Tribal Governance Center. There will be a community event and giveaways tentatively planned for later in the year.
"They will be standing and looking at all they created," Bobb said. "Now that's pretty cool."
It will not be Bobb's first creation to be placed on the Tribal campus. The Vietnam War veteran began sculpting in the 1990s and took his first professional class to delve into that artistic medium. He created the West Valley Veterans Memorial, which features a man and woman dressed in traditional regalia reaching toward the sky surrounded by four black pillars represent the four branches of the armed forces – Marine Corps, Army, Navy and Air Force.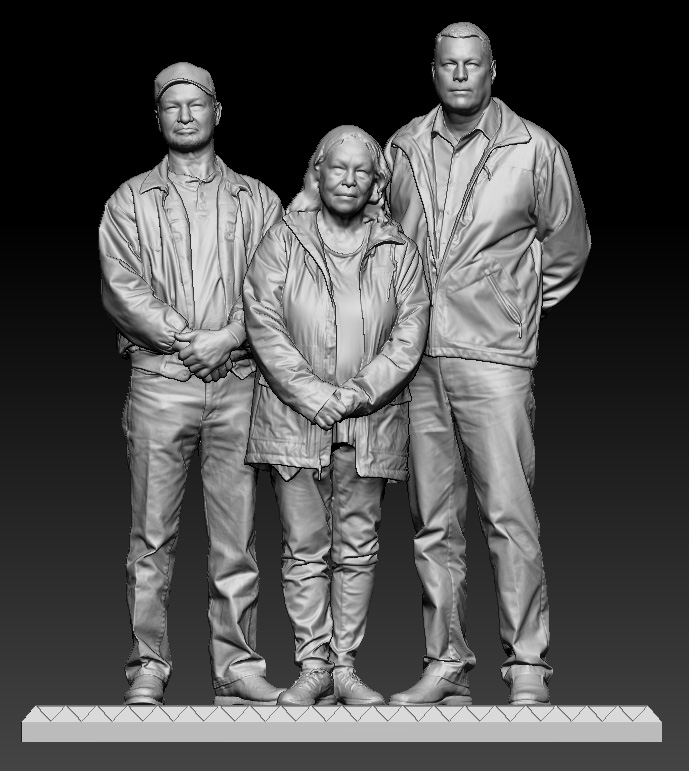 The current rendering of the "Visionaries" statue after the children of Margaret Provost, Merle Holmes and Marvin Kimsey were used as stand-ins in mid-January for their parents.
The bronze sculpture was dedicated in May 2003. The original, smaller version of the sculpture is located in the foyer of Bobb's house.
Form 3-D Foundry is a sculptural fabrication business that pairs technology with classic studio methods, an approach that saves time, according to Art Director Steve Christman. Technicians use a variety of cameras, photogrammetry and 3-D scanning, and processing software to create detail in their art.
This is the first time the Tribe has worked with the business. Bobb and Christman first became acquainted through their association with Parks Bronze in Enterprise, Ore., which will create the final version of the sculpture.
"In this case, we are doing 3-D scans and digitally remaking this under Steve's direction," Christman said. "We do a lot of live scanning so this is right in our wheelhouse."
Bobb said Holmes, Kimsey and Provost will be honored with the sculpture because they supported Restoration from the beginning.
"There were lots of contributors and helpers along the way, but these are the three who really stepped up and said, 'Let's do this,' and then saw it through all of the struggles," he said.
After the scanning is complete, it will formed into a foam model and then covered with a thin layer of clay. Final casting will be completed at Parks Bronze.
"I think this is an honor," Many Hides said. "The goals they advocated for, education, housing and health care, took a lot of work. Those needs are still there. I believe in a lot of the same things my mother fought for and believed in."
Jim Holmes said when he thinks of how successful the Tribe has become, he remembers how hard his father worked.
"They wanted basic needs met for the people," he said. "I was very thankful when Steve approached me with this concept. I am more than happy to step in."
Duke Kimsey described it as a "proud moment."
"I think this is pretty cool, but my dad would probably go, 'Bah, humbug!' " he said with a smile. "But I am sure he would also be very proud."