Tribal Government & News
ATNI Winter Convention draws large Tribal turnout
PORTLAND – The Affiliated Tribes of Northwest Indians' Winter Convention was one of the best attended in recent years and Grand Ronde was well-represented.
The annual event, held Sunday, Jan. 27, through Thursday, Jan. 31, at the DoubleTree Hilton, is an opportunity for meetings, discussion, presentations and committee work that affects policy, legislation and the future of Indian Country in the Pacific Northwest. The conference began just days after the longest partial federal government shutdown in history had ended on Friday, Jan. 25.
Grand Ronde Tribal Council Secretary Jon A. George led the invocation Monday, asking for a blessing upon ATNI staff, Tribal leaders and the city of Portland.
Drumming and singing were led by Tribal Cultural Advisor Bobby Mercier, Tribal Artisan Brian Krehbiel, Jon A. George, Historic Preservation Technician Nicolas Atanacio, Cultural Resources Manager David Harrelson, Interpretive Coordinator Travis Stewart, Cultural Education Coordinator Jordan Mercier, Cultural Protection Specialist Chris Bailey, Tribal member Kyoni Mercier and Kevin Paul of the Swinomish Tribe.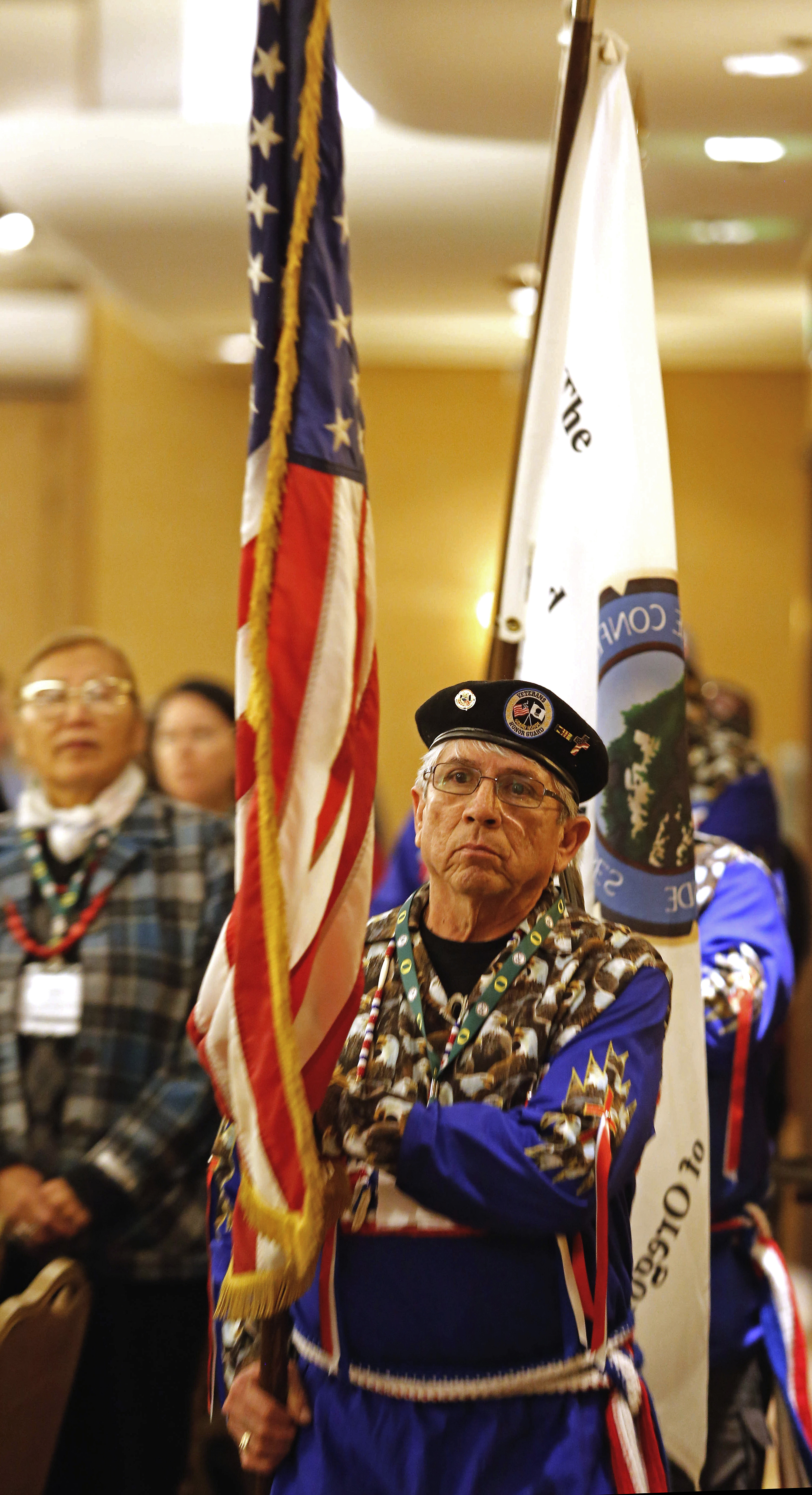 Tribal Council member Steve Bobb Sr. leads the Veterans Honor Guard in posting the colors during the Affiliated Tribes of Northwest Indians Winter Convention held in Portland on Monday, Jan. 28. The conference ran through Thursday, Jan. 31. Photo by Timothy J. Gonzalez/Smoke Signals
Flags were brought in by the Northwest Indian Veterans Association, which included Grand Ronde Veterans Honor Guard members Al Miller, current Tribal Council member Steve Bobb Sr., Raymond Petite and Rich VanAtta.
All Tribal Council members attended the ATNI convention. They are Chairwoman Cheryle A. Kennedy, Vice Chair Chris Mercier, Jon A. George, Kathleen George, Jack Giffen Jr., Lisa Leno, Bobb, Denise Harvey and Michael Langley.
Also attending were Tribal Attorney Rob Greene, General Manager David Fullerton, Finance Officer Chris Leno and Tribal Council Chief of Staff Stacia Hernandez.
Kennedy welcomed convention attendees to the Grand Ronde Tribe's homelands, and thanked the color guard and drummers.
"Today we will have a fruitful day of discussion," she said. "Today I am grateful the shutdown is over. I welcome you all to the city of Roses … When you think of the Willamette River, say a prayer for it. It is in distress."
Portland Mayor Ted Wheeler thanked ATNI for continuing to select Portland as its Winter Convention site.
"I really appreciate all the work you do to protect the environment," Wheeler said. "Creating relationships with Tribal governments is very important to me personally and my colleagues on the City Council. … We have to acknowledge our history to move forward. There is so much dark history to reckon with."
Wheeler highlighted the city's Tribal liaison Laura John (Blackfeet/Seneca), who began her job more than a year ago to help develop Tribal relationships.
On Sept. 28, 2018, the city hosted its inaugural Tribal Nations Summit, which marked the first time in the United States that a city government engaged with its neighboring Tribes to establish local partnerships.
"We've made some progress. … It is critical that the city develops a deeper understanding of Native food, the river, natural resources and how Canoe Journey revitalizes Native traditions," Wheeler said. "For me, the highlight of the summit was paddling with the Cowlitz Canoe Family. … We are honored by your presence here and support that work that you do."
ATNI Executive President Leonard Forsman (Suquamish) told attendees that the fight continues for Tribes to be able to honor their traditional ways and have access to their homelands.
"We need to use opportunities to educate people about the context of ceremony," he said.
Forsman also touched on the recent mid-term elections, partial federal government shutdown and climate change in his opening remarks.
"Lots of Tribal candidates were elected in both the state and federal governments, and I am glad the shutdown is over," he said. "With climate change, we see it every day with the changes in tides, seasons and gathering times. We are trying to get people to acknowledge it as an issue."
Other Monday morning topics included speakers on national Indian Child Welfare Act issues, climate change and a natural resources panel.
Afternoon activities included a Tribal leaders' climate change roundtable and a screening of "100 Years," which tells the story of Elouise Cobell (Blackfeet). She began asking questions about missing federal government money in Indian trust accounts. The Tribal treasurer discovered a trail of fraud and the film highlights her 30-year fight for justice for 300,000 Native Americans.
On Tuesday, Grand Ronde Tribal member and newly minted Bureau of Indian Affairs Regional Director Bryan Mercier spoke to attendees.
"We have 350 largely Tribal members who work at the BIA," he said. "We believe in serving Tribes and the shutdown had a huge effect on our people's morale and finances."
Mercier added that since he was deemed an "essential" employee, he worked without pay during the 35-day shutdown.
"I've been inspired by the stories of donations to furloughed employees by Tribes," he said. "It was a tough one to get through and I hope we all have learned our lessons. We need to do better to prepare ourselves so there is no loss of funds to communities in the future. I want to serve Indian Country to the best of my ability."
Part of that will include traveling with his family this summer to various Tribes within the BIA region he leads.
"My priority is going to be visiting your communities," Mercier said. "I plan to spend a lot of time on the road this summer. There are 45 Tribes in the BIA region, and I will try to eventually get to all of your communities."
Two other priorities include hiring Tribal members to fill spots left by retiring BIA personnel and to improve Tribal self-determination.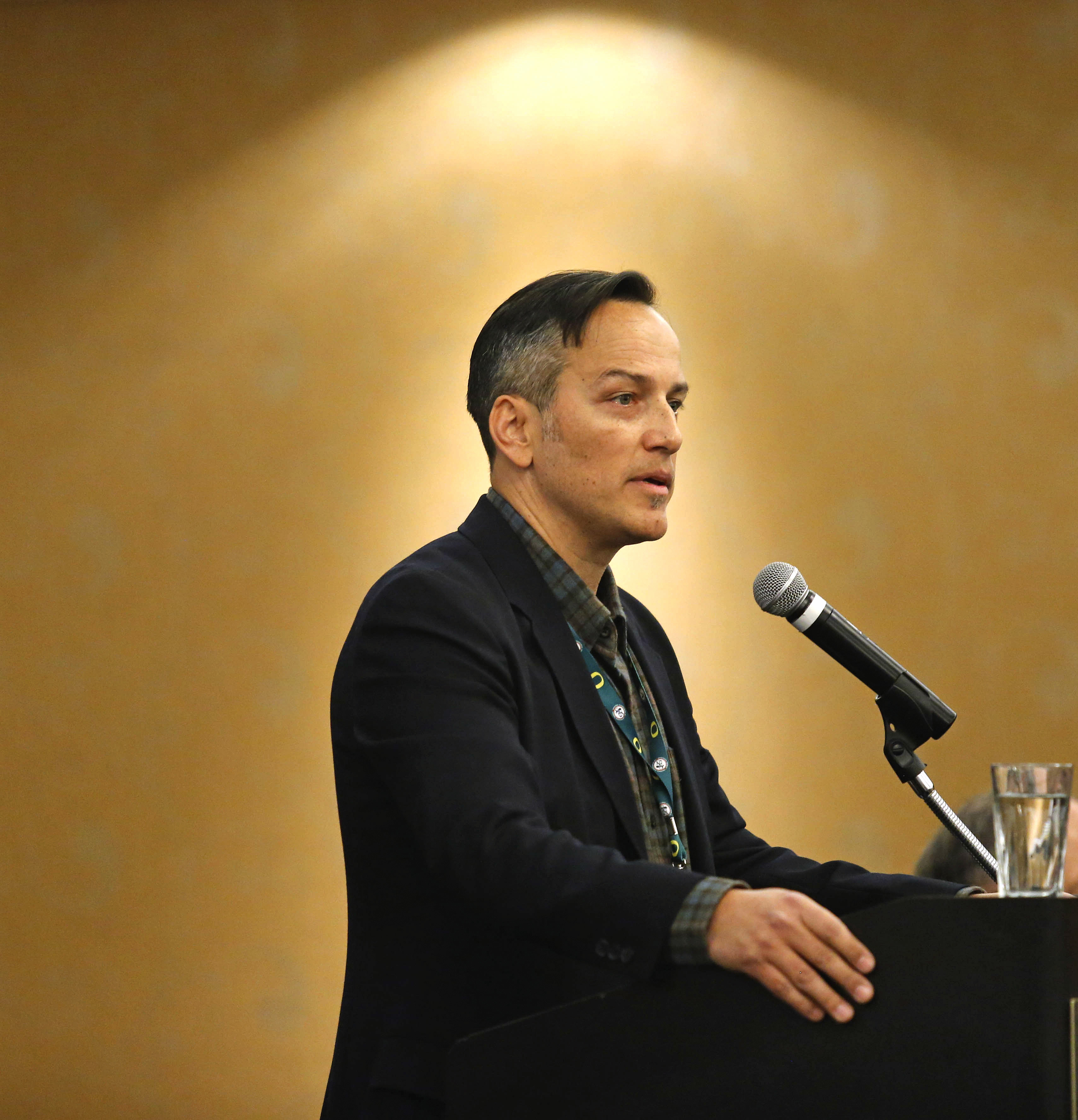 Bureau of Indian Affairs Northwest Regional Director and Tribal member Bryan Mercier speaks during the Affiliated Tribes of Northwest Indians Winter Convention held in Portland on Tuesday, Jan. 29. Photo by Timothy J. Gonzalez
"Our Tribes are largely self-determined, but there are still things that can be improved," Mercier said.
Spirit Mountain Community Fund Executive Director and Grand Ronde Tribal member Michael Cherry participated in a philanthropy panel that discussed giving in Indian Country.
"I believe Tribes have a rich history of potlatch and giving back," she said. "We have been giving long before we had community funds and charitable arms. … It's always important to our Tribe to be part of the solution."
She also discussed some of the misconceptions nonTribal charitable organizations have about Tribal people.
"A narrative I would like to see shift is perception," Cherry said. "We get out and do workshops, and sometimes these include some uncomfortable conversations about Termination and Restoration. Some people ask if we still live in teepees. That was eye opening to me and concerning. We have to educate people. I tell my staff to set an example and not take offense."
Other highlights of the five-day conference included a Get Out the Vote panel, media and community strategies, the Grand Ronde Tribe's Hatfield Fellowship, workforce development needs in Tribal forestry, a culture night and trauma-informed care.
The convention wrapped up on Thursday, Jan. 31, with resolutions that will be forwarded to the National Congress of American Indians for consideration.