Tribal Government & News
General Council briefed on Community Fund and Editorial Board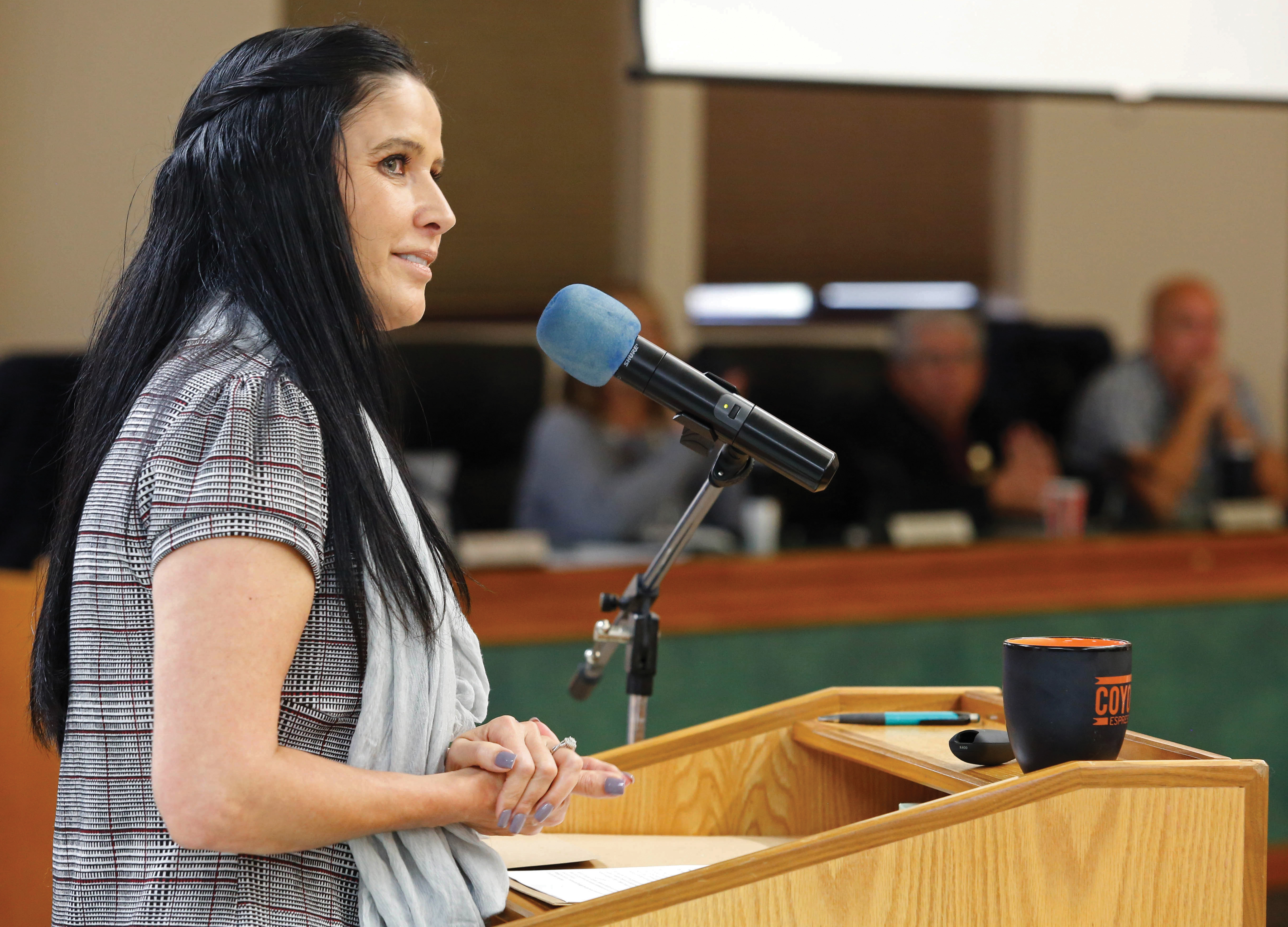 General Council received briefings on Spirit Mountain Community Fund and the five-member Editorial Board that oversees Smoke Signals during the Sunday, Dec. 2, General Council meeting.
Spirit Mountain Community Fund Executive Director Mychal Cherry provided an overview of the Tribe's 21-year-old philanthropic arm that has distributed almost $80 million in 2,695 grants since it started in May 1997.
The Community Fund receives 6 percent of Spirit Mountain Casino profits and distributes those funds to nonprofit organizations in 11 northwestern Oregon counties, as well as to the nine federally recognized Tribes in the state.
"The Confederated Tribes of Grand Ronde, through its philanthropic arm, the Spirit Mountain Community Fund, continues the Native tradition of potlatch, a ceremony in which good fortune is distributed," Cherry said. "Through our grant awards, we promote sustainability, inclusion and the advancement of underserved communities, including Oregon Tribes. Our primary focus is to improve the quality of life in northwest Oregon through effective philanthropic investments consistent with the Tribe's culture and values."
In addition, the Community Fund operates the Hatfield Fellowship Program, which was created in 1998 to honor former Oregon Sen. Mark Hatfield. The program sends a Native American to work for nine months in an office of one of Oregon congressional members to foster a better understanding in Washington, D.C., of Indian Country.
The Community Fund is overseen by an eight-member Board of Trustees that selects grants to be distributed in seven categories: arts and culture, education, environmental preservation, health, historic preservation, public safety and problem gaming. Tribal Council members Denise Harvey, Jack Giffen Jr. and Kathleen George serve on the board.
Cherry said the fund's core values are equity and diversity, integrity, justice, engagement and respect.
In 2018, the Community Fund hosted the Grantmakers of Oregon & Southwestern Washington conference at Spirit Mountain Casino, worked on collaborative efforts with the Tribe's Education, Cultural Resources and Natural Resources departments, started recording podcasts with nonprofits to showcase the work Community Fund grants are doing, and developed a five-year strategic plan.
Cherry also announced that for the first time in its history, the Community Fund is completely staffed by Grand Ronde Tribal members with herself, Program Coordinator Angela Sears, Grants Coordinator Jesse Knight and Administrative Assistant Marissa Leno. More information about the Community Fund can be accessed at www.thecommunityfund.com.
Cherry received two questions from the membership following her presentation.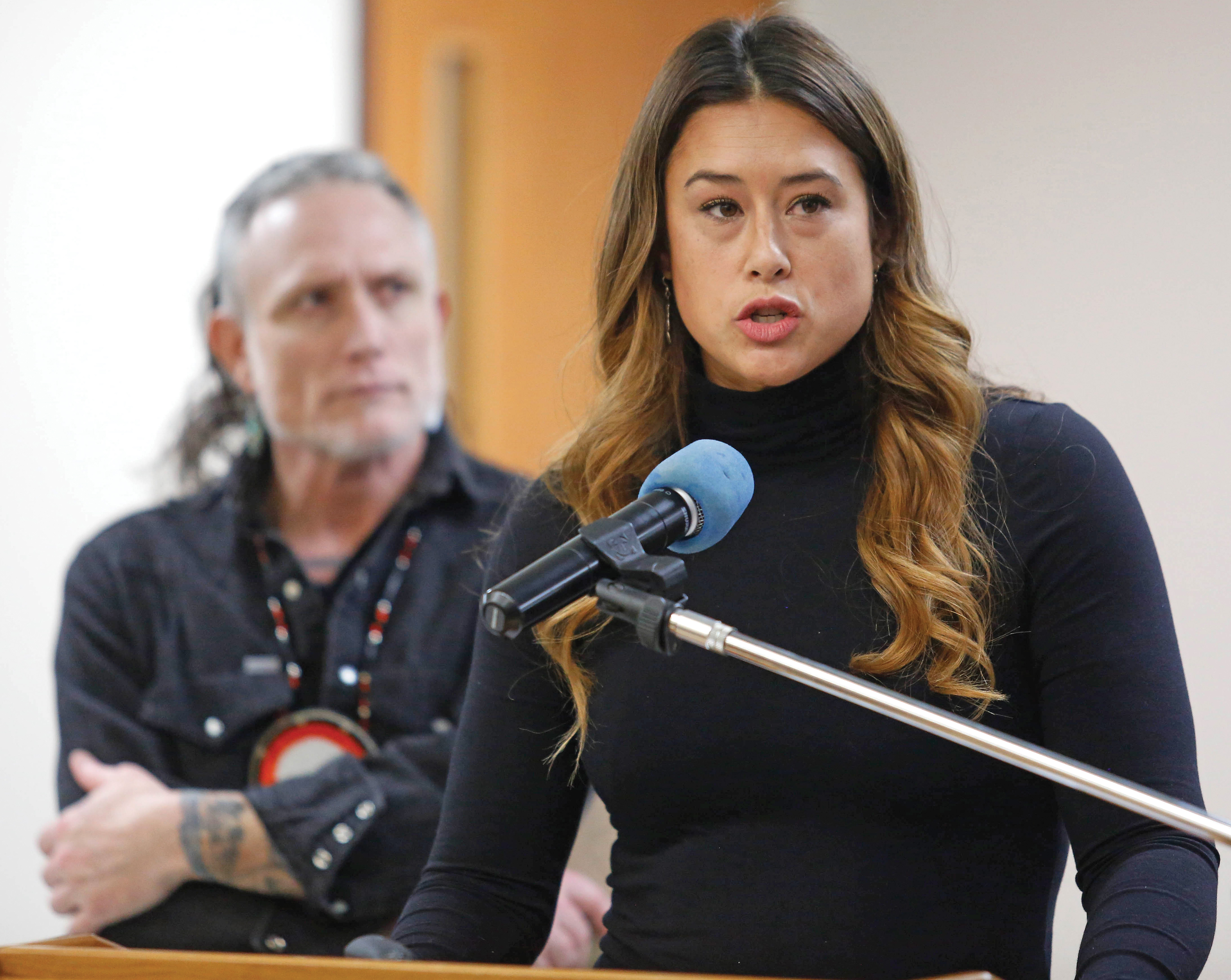 Editorial Board Secretary Mia Prickett, front, and Vice Chair Monty Herron make a presentation during the General Council meeting held in the Community Center on Sunday, Dec. 2. (Photo by Timothy J. Gonzalez/Smoke Signals)
Editorial Board Vice Chair Monty Herron and Secretary Mia Prickett followed with a presentation on the board, which started meeting in June 2017 and is charged with overseeing Smoke Signals, the Tribe's bimonthly newspaper.
Smoke Signals became an independent Tribal newspaper in January 2017 after Tribal Council codified the freedom of press included in the Tribal Constitution in December 2016.
The five-member Editorial Board – Chair Siobhan Taylor, Herron, Prickett, former Tribal Council member Andrew Jenness and former Smoke Signals staff writer Ron Karten – are charged with ensuring the Tribal publication has the independence to report objectively on the Tribe. The Independent Tribal Press Ordinance requires that a majority of the Editorial Board be Tribal members.
"Smoke Signals is a free Tribal press that upholds ethical and professional journalism standards to provide the membership and stakeholders with unbiased, factual and timely information using print and expanded digital media platforms," Prickett said.
Prickett said that Smoke Signals is now one of only five independent newspapers in Indian Country following the Muscogee (Creek) Nation in Oklahoma repealing its free press protections in November.
Among the highlights, Herron reported that Smoke Signals page counts have increased 43 percent from 402 in 2008 to a projected 584 this year, and social media efforts, such as podcasting and creating a Smoke Signals Facebook page, are attracting more and more listeners and friends, respectively. Earlier this year, Smoke Signals' eight Tribal Council candidate podcast interviews were listened to almost 200 times.
Herron discussed the future of Smoke Signals, which will include a new website, www.smokesignals.org, which is scheduled to debut in mid-December, and more social media outreach to the membership with videos being posted on YouTube and an increasing partnership with Indian Country Today in sharing stories and resources.
Herron and Prickett received one comment following their presentation.
Following the two presentations, Tribal Council Chairwoman Cheryle A. Kennedy announced that the meeting would end promptly at 11:30 a.m. so that attendees could walk over to the Tribal Council Christmas Party occurring in the Tribal gym.
The next General Council meeting will be held at 11 a.m. Sunday, Jan. 6, in the Tribal Community Center.
Noah Gerbrandt, Garry Williams, Sharon Freund, Virginia Wheeler and Kynzie McNeil won the $50 door prizes and Tonya Gleason-Shepek, Francene Ambrose and Dorothy Shortt won the $100 door prizes. Gleason-Shepek and Ambrose both donated their winnings to the Grand Ronde Food Bank, which Ambrose runs as an employee of Marion-Polk Food Share.
In addition, nominations were held for three openings on the Elders Committee. Julie Little, Penny DeLoe, Dan Ham and Duane Wheeler were nominated and votes will be cast during the Wednesday, Dec. 19, meal site luncheon and at the Jan. 6 General Council meeting.
Education Committee Chair Tammy Cook also announced a "School Is Cool" logo design contest for Tribal youth with a grand prize of a $250 Amazon gift card.
Cultural Resources Department Manager David Harrelson and Tribal Council Secretary Jon A. George led the cultural presentation to open the meeting.
The entire meeting can be viewed by visiting the Tribal website at www.grandronde.org and clicking on the News tab and then Video.