Tribal Government & News
General Council briefed on '16 capital improvement projects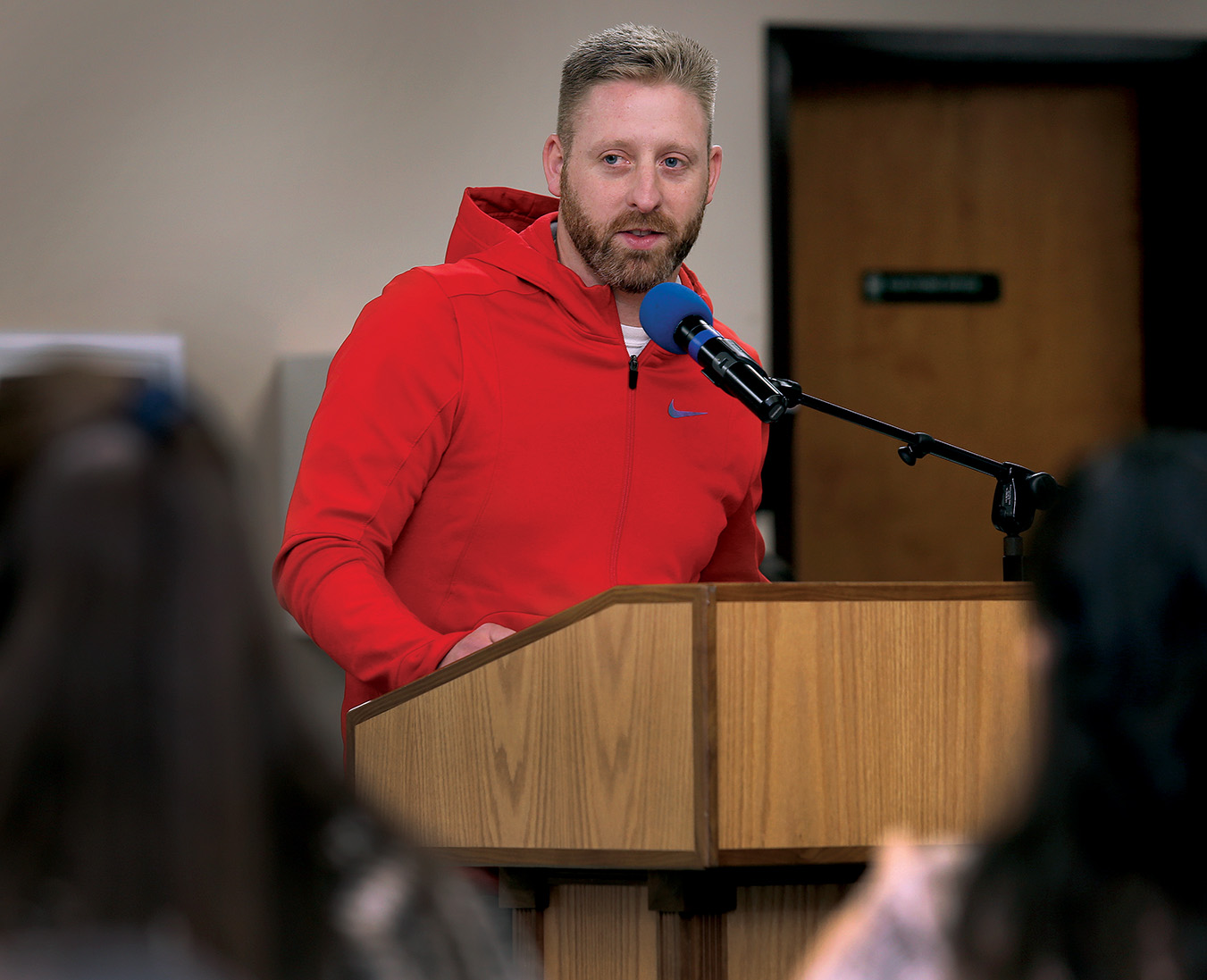 The Grand Ronde Tribe has made more than $3.67 million in improvements to the Tribal campus and Reservation during 2016, said Engineering and Public Works Manager Jesse White during the Sunday, Dec. 4, General Council meeting held in the Tribal Community Center.
The projects ranged from construction of a new Tribal police station on Grand Ronde Road to road repairs on the Reservation to installing bleachers at Uyxat Powwow Grounds off Hebo Road.
White's 17-minute presentation started with an overview of the 4,400-square-foot police station that he said should be complete this month with a grand opening set for early January. The station is replacing a cramped modular adjacent to Spirit Mountain Casino.
"This is a much-needed facility for our Tribal police force," White said.
The station costs $1.163 million and was mostly funded through funds provided by the U.S. Department of Housing and Urban Development and U.S. Department of Justice.
White said a recent expansion of storage for Tribal Archives will expand capacity from 3,000 boxes to 6,000 boxes. The mobile storage unit was donated by SAIF Corp. and cost $86,180 to move and install. However, the unit is valued at more than $300,000.
"Last year, Archives was nearing capacity and needed to find a way to expand," White said. "This was a great savings to the Tribe. This should be plenty sufficient for the next 10 years."
Up on the Reservation, the Agency Creek and Yoncalla road repairs rehabilitated four miles of roadway at a cost of $2.2 million using Bureau of Indian Affairs' funds. In addition, 35 culverts were replaced and two fish passage culverts were installed under Agency Creek Road to Agency Creek, providing fish access to the creek.
White said several of the culverts were 50 years old and made of corrugated metal that was rusting through. The new culverts are made of plastic.
Meanwhile, an expansion of family housing wastewater treatment plant capacity increased the plant's ability to handle wastewater from 36,000 gallons per day to 72,000 gallons per day at a cost of $79,856. The expansion was 80 percent funded by a federal grant.
And the installation of bleachers at the Powwow Grounds arbor cost $130,000.
White said his department also built the Charnel House adjacent to the Tribal Cemetery and demolished several buildings on conservation properties managed by the Tribe.
White said that 24 Tribal Employment Rights Office workers were used on the capital improvement projects and 2,534 hours were worked by TERO employees.
He added that future projects in 2017 will include working on a long-range Tribal transportation plan, Early Childhood-Youth Education building expansion and men's transition house renovation.
White fielded three questions from the membership during a question-and-answer session.
Elders' Committee nominations preceded White's presentation with Julie Duncan, Jenny Vanatta, Marcia Stake, Dwayne Wheeler and Dorothy Shortt being nominated to run for open positions on the committee.
Bob Duncan, Laura Gleason, Nichole Liebelt, Khani Schultz and Julie Duncan won the $50 door prizes and Alton Butler, Dorothy Leno and Maxine Clements won the $100 door prizes. Two beaded necklaces made by Tribal Council Secretary Jon A. George also were raffled off.
Veronica Gaston gave the invocation to open the meeting.
The next General Council meeting will be held at 11 a.m. Sunday, Jan. 8, in the Tribal Community Center.
The meeting, in its entirety, can be viewed on the Tribal website at www.grandronde.org by clicking on the News tab and then Video.