Culture
Community Fund begins airing updated TV commercials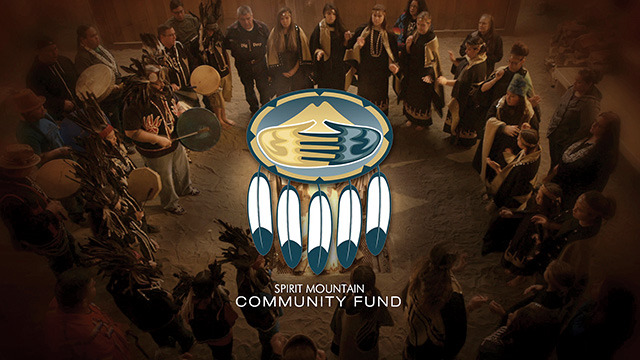 This year's Summer Olympic Games is primetime for the nation and also for the Tribe's Spirit Mountain Community Fund.
The Tribe's charitable-giving organization is being featured in a series of updated television commercials that began airing in June and will run through the end of the year. Many of the ads are set to run during primetime as a backdrop to Olympic coverage.
"One of the things I heard from the board fairly quickly is that the vast majority of Oregonians don't know that Spirit Mountain Community Fund, on behalf of the Tribe, does this very substantial amount of charitable giving," said Community Fund Director Kathleen George. "The Tribe doesn't often talk a lot about the incredible charitable giving that it does. So there was a desire on behalf of the board to get the message out."
Spirit Mountain Community Fund officially surpassed $70 million in charitable giving during its second quarter distribution ceremony in June.
The Community Fund hired filmmaker David Poulshock of Red Door Films in Portland to create the television ads. Poulshock was familiar to the Tribal community after working on the "Dare to Have Fun" television ad campaign for Spirit Mountain Casino.
Poulshock is an award-winning writer, director and editor who works on commercials, web videos, documentary and corporate films, and features. He won a Telly Award for the work he did on the Spirit Mountain Casino commercials. Red Door Films was founded in 2001.
The four television ads feature members of the Tribe, including late Tribal Elder Mike Larsen.
"Mike was really excited and enthusiastic about doing the project when I went and talked to him about it," said George. "Mike was such a special person. He brought such dignity to being that role of spokesman for our Tribe."
The ads also feature Tribal Elder Dolores Parmenter and several Tribal youth.
George said the primary message is to educate Oregonians about the work the Tribe does and that she was happy to see members get the chance to be featured in a way that positively reflects the Tribe and its culture.
"We talked to David (Poulshock) and one of the ideas we had and one of the things I really wanted to do is feature the Tribe's identity in these commercials," said George. "It was an opportunity for our Tribal members to be representatives of our Tribe and be the spokespeople for our Tribe. It was fantastic to work with those Tribal Elders."
Spirit Mountain Community Fund Program Coordinator Louis King said the commercials are meant to give a broader audience a greater understanding of the Tribe's tradition of giving back.
"It's an educational piece really about who the Tribe is and what the Tribe does in terms of supporting the communities they interact with," said King. "They do that through the Community Fund."
Tribal Council member Ed Pearsall, who also sits on Spirit Mountain Community Fund's Board of Directors, said he thought it was time to put the Tribe and its charitable giving organization back in the spotlight.
"I think it's great," said Pearsall. "It's been a while since we've done anything like that. I think it's a good thing."
Pearsall said he has seen one of the commercials so far.
"I thought it was done well and I think it worked for the board," said Pearsall. "I think it gets the message out to a huge amount of people and it's a positive message."
Board member and former Congresswoman Darlene Hooley said people need to know that the Tribe makes a difference through the Community Fund.
"I think it is important for people to know that Spirit Mountain Community Fund is working with the surrounding communities, trying to make not only their community better, but all the other communities better and I think they are doing a terrific job," said Hooley. "I think it's a good thing to let people know what we're doing and how we are committed to the communities that surround the Reservation."
Board member and Tribal Council Vice Chair Jack Giffen Jr. said he likes the look and feel of the commercials.
"I think it's very important that you have the cultural aspect to those television commercials to really show people what it means for the Tribe to give back to the community," said Giffen. "It definitely sets us apart and I think it goes back to the vision of the Elders who set up the fund. It's that direct line to the Elders' vision. It's always good to remind people who we are, where we come from and how we got here."