Gaming
Spirit Mountain Casino retiring specialty chips on May 4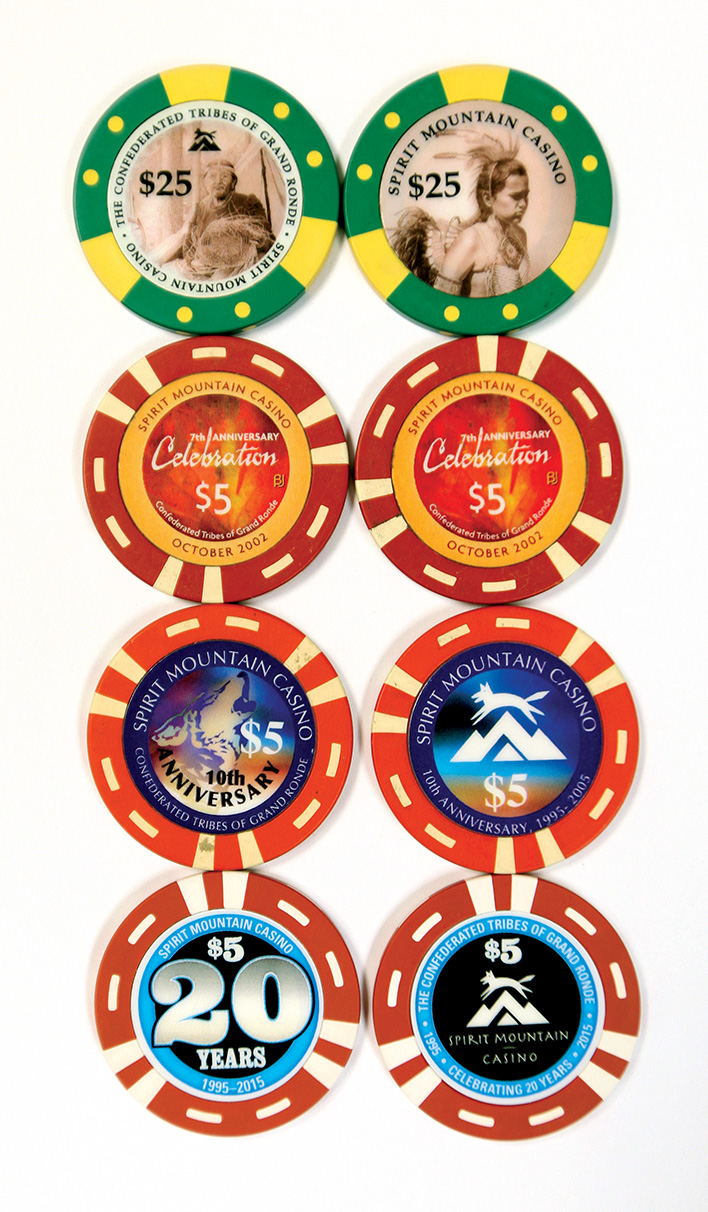 Players look at casino chips as a way to track their winnings.
Casino properties look at chips as cash.
But collectors look at playing chips as pieces of art and history.
Spirit Mountain Casino issued a public notice on Monday, Jan. 4, that collectors are going to like. The casino's special event and collector playing chips will be discontinued and no longer accepted at face value.
Collector chips like the Martha Jane Sands and Indian Boy $25 chips from 2008, the seventh anniversary $5 chips from 2002, the 10th anniversary $5 chips from 2005 and the 20th anniversary $5 chips from 2015 will officially become collector items in May.
People wanting to receive face value for their specialty chips have until May 4 to redeem them at Spirit Mountain. After that date, the chips become collector items only.
Spirit Mountain Casino General Manager Stan Dillon said the move is being made mainly for security reasons, but also to enhance the collectible value of specialty promotional chips issued in the past.
Dillon said that playing chips have a series of dots and dashes around the edges to enhance the casino's ability to guarantee that the chips being played at Spirit Mountain Casino gaming tables are only from Spirit Mountain.
"We can recognize that chip and we as a company can know that those are our chips," said Dillon. "We know that the pattern fits our gaming chip. The purpose is a protection issue for the house. It's not good game protection to have all these different chips in your tray at one time. We want to make sure our chips are clean, modern and easy to recognize."
Dillon said that issuing specialty chips, such as the Martha Jane and anniversary chips, are promotional, but also the casino can bring in revenue from guests who like to collect playing chips.
"The reason we do those is because it's fun and guests like it, but another reason casinos do that is casinos actually make money on it because there are a lot of chip collectors out there in the industry," said Dillon. "People like to collect different chips from all around the country and they trade them. So they have a value.
"It gives our 20-year chip more value for people who want to collect it and (specialty) chips are for collectors; that's why you make those."
Dillon said the industry norm is to only have chips in play for a limited amount of time.
"When you take that chip out of circulation then now it's a collectible chip because no one can get one there. If you don't have one you can't get one (from the casino) and that's what gives it its value," said Dillon.  
Dillon said issuing a 120-day notice to the public is a standard in the gaming industry and required by the Gaming Commission.
"It gives guests ample time to redeem them," said Dillon. "In this case, we'll post it on our Internet site, we'll post it at our casino cages and we posted it in the paper. We will honor the ones you have, but you can't get them anymore so you can't come in and ask for them."
Dillon said he believes the higher denomination chips like the Martha Jane and the Indian Boy $25 chips will be valued by collectors more than the $5 anniversary chips because there will be fewer of them kept by guests.
Tom Slater of Heritage Auctions in Dallas, Texas, agrees with Dillon.
"The higher denomination chips tend to be more valuable because people were less likely to keep them and not redeem them for their face value," said Slater.
A Sands Hotel $5 casino chip sold at auction in 2004 for more than $33,000, according to Old Vegas Chips' website. The Sands chip had previously been unknown and the $33,000 bid is considered to be the current record holder in terms of value for a collector playing chip. The Sands Hotel closed in 1996 after 43.5 years of operation in Las Vegas.
According to Heritage Auctions, the basic factors used to determine collector chip value are rarity, location, aesthetic appeal and condition.
Rarity is the most important factor in any collectible and it is the same with casino chips. The collector market is so focused on the rarity of an item that collector's organizations can tell exactly how many of a certain chip are in existence throughout the world and the value of these items is derived from that number.