Gaming
Casino drives toys to Doernbecher Children's Hospital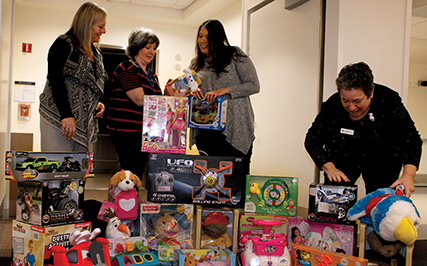 PORTLAND -- Spirit Mountain Casino guests gave almost 4,500 toys to the children of Oregon Health & Science University's Doernbecher Children's Hospital during a three-week toy drive that ended on Monday Dec. 15.
The toys were delivered to the hospital on Wednesday, Dec. 17.
The casino encouraged toy contributions by offering in return free slot machine play during the drive. The free play, offered as a $10 credit for each of 2,562 guests, was valued at $25,620, according to casino Marketing Director Toby O'Brien.
On hand to deliver the toys were Tribal Council member Denise Harvey, O'Brien and Angela Sears, Advertising supervisor at the casino.
Receiving the donation was Oregon Health & Science University Child Life Manager Sandy Westfall. She said that the casino's gifts amount to about half of all toys that the hospital receives annually.
The toys are distributed throughout the year, Westfall said, and in fact the hospital will not start to distribute this year's gifts to children until March.
The toys go to some 100,000 children served each year by the hospital. Including outpatients and others, who for different reasons may not receive a toy, the hospital serves more than 200,000 children during the year.
This year's toys arrived on nine pallets delivered in a semi-trailer donated by Portland-based TP Freight Lines and driven by Mark McGonigal.
This is the seventh year that the casino has contributed toys for the hospital's young patients. Spirit Mountain Community Fund also has made regular cash contributions to Doernbecher. Since 2002, the Community Fund has made six grants totaling $393,000, according to Community Fund Director Kathleen George.
"Helping make the holidays a little brighter for the children at OHSU Doernbecher has become an annual tradition for staff and guests at Spirit Mountain," said Spirit Mountain Casino General Manager Stan Dillon. "We're delighted that our guests have stepped up again this season to provide toys for the holiday and throughout the year. On behalf of Spirit Mountain Casino and the Confederated Tribes of Grand Ronde, we wish everyone a wealth of health and happiness throughout the year."
Since 2008, 21,698 casino guests have contributed 44,928 toys to Doernbecher.