Tribal Government & News
Tresa Mercier recalls 30 years of service to the Tribe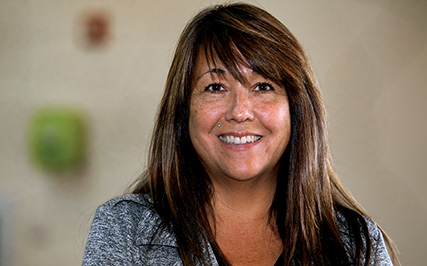 Tresa Mercier was hired by the Tribe as an intern in April 1984, not too long after Restoration occurred on Nov. 22, 1983.
That was more than 30 years ago when she was 19.
Today, at 49, she is the Tribe's longest-serving employee ever and the Health and Wellness Clinic's Business Office manager. She recently celebrated and was honored for her three decades of continual service to the Tribal membership.
During the first six months, she worked at the Tribal Cemetery building as an intern through the Siletz Work Experience Program, which was funded by the Bureau of Indian Affairs. Since, she has spent the entirety of her career in the Health Department, even before the Health and Wellness Clinic was built.
Jim Willis hired her for that internship.
She moved on to the main office at the old Train Depot when the internship was over. She remembers a one-room building without running water and an outhouse in the back.
"We used to get water for our coffee from a hose outside," she recalls.
When the Tribe received its first Indian Health Service money, she was hired full-time by Cheryle A. Kennedy, then the first director of the Tribal Health Department. Kennedy went on to serve as a Tribal Council member for many years.
Bonnie Mercier was Community Health representative and Tresa was health clerk. Together, they moved into the Depot office.
She recalls that Jim St. Martin was general manager, Don Hudson was his assistant, Candy Robertson was administrative assistant, Barbara Mercier handled enrollment and Russ Leno worked at the cemetery grounds, a position he held for many years.
"It was a lot smaller then," Tresa recalls. "We did a hand-written newspaper and hand-written labels. Members of Tribal Council, Dean Mercier for one, came by a lot, and others dropped in from time to time."
General Manager's Office Executive Assistant Barbara Mercier worked and lived with Tresa in those days.
"We were the youngest, so we did everything that needed to be done," Barbara recalls. "She came on slightly after me, and we were rooming together. It was so small back then. Six of us in one room. One time, Les AuCoin, who was in Congress, was coming, so we painted the whole inside. And the artwork. We were pretty happy to be down there.
"We used to get into laughing jags where we were out of control. Sometimes just a look at each other. When you know somebody well, you can see what's crossing their mind. Kind of like laughing in church."
Barbara, who worked for the Tribe from 1983-85, left to pursue her education and returned to Tribal employment in 1991.
Tresa remembers the first Restoration Powwow in 1984.
"It was big," she recalls. "We had it at the Grand Ronde (school) gym. We had dinner at St. Michael's. We all helped, staff and volunteers. At that time, everybody involved helped with powwows and dinners." For the event, "maybe 500 came. The gym was packed. That was really big for us then."
Tresa says that everyone was appreciative of all those who helped. Big things were coming. Everybody was talking about all of the things the Tribe wanted to do. Upstairs at the Depot, Tribal Council chambers shared space with administration and accounting.
"People were still becoming enrolled. Programs were starting. We were still trying to absorb it all," Tresa recalls. "I remember coming out to the post office and voting. I was kind of young. I don't know that I was paying attention to everything."
Sometime around the summer of 1985, Tresa recalls, she lived down the street from the Depot.
"The director of the Portland area Indian Health Service and staff were coming to do a site visit with a couple of staff members. Cheryle (Kennedy), Bonnie (Mercier) and I planned a lunch for our guests. I was 20 and the only thing I had ever cooked was Ramen and grilled cheese, so I had no idea how to make anything, but there wasn't funding for catering or anything like that at the time.
"We asked Cheryle's brother, John (Sonny) Allen, to help me cook the food. I was so nervous cooking for these important people, but we … hemade a wonderful turkey dinner and everyone loved it. I've been making delightful turkeys ever since. That's a goofy story that always makes me happy to think about."
In 1992, when the Health Department was located in one of the modular buildings, Tresa was upgraded to Support Services coordinator for Contract Health. It was the version then of the Health Business Office. A few years after the Tribe built the clinic building in 1997, her title changed to Business Office manager.
She has had "a lot of relationships over the years with a lot of Tribal members, and always worked to make sure they were taken care of. I don't think it has changed."
It makes her "really happy being able to hire Tribal members, and help them gain skills and confidence to move up in their career paths. Some have chosen to go back to school and some have taken the opportunity to take classes while they are working."
"I feel like she is the biggest asset the Tribe has working here," says Melody Baker, Senior Contract Health specialist, who has worked for the Tribe and with Tresa for 15 years. "She's a matriarch so to speak. She is a huge advocate for Tribal members. Everything from employment, education to self-improvement and also for our Tribal patients here at the clinic.
"She's not afraid to go toe to toe for something she believes strongly in; yet she is humble and has the biggest heart of anyone I know. Most probably have no idea of all of the things she does for other people because she doesn't like to be praised for being an amazing human. She's a great listener and advice giver. She is so giving of herself and her time.
"She's 100 percent involved in our culture and attends every activity the Tribe does and has for as long as I've known her. I could seriously go on for days, but I respect, appreciate, admire and look up to her very much. We could use more people like her in this world … that's for sure.
"But," Baker adds, "she doesn't love it when people 'gush' about her."
"I feel like I was given a great opportunity with the job training program that was available to me," says Tresa, "and it's important to me to give the same opportunity to other Tribal members."
For the last year, Tresa has added the Skookum Health Assistance Program manager position to her job duties.
"It's a lot of extra work, but I have good help," she says. "All of my team is really good. We coordinate a lot with Contract Health Services. We really need advocates for Tribal members and the services they need. We do a lot of coordination with plans, and with Tribal members from everywhere. I feel like we're improving."
Mercier's parents are Bob and Gayle Mercier. Her grandparents on her father's side are Joe (Sonny) and Blandine Mercier, and on her mother's side, Orin and Velma Hamilton. Her grandparents have passed on.
She has three children, all active in Tribal affairs: Ali, 28, and Keiffer, 25, who live in Grand Ronde, and Zoey, 18, who is attending college in Hawaii.
"My family is all really involved," Tresa says.
Ali worked as an intern first. Then, she was a teacher in the Chinuk Wawa Immersion class.
As a child, Keiffer was involved with the Education and Prevention departments, and attended many of the activities they provided. As a high school intern, he worked in the Tribal pre-school and later in grounds keeping.
Zoey has been "really" involved with the Canoe Family and also worked in the pre-school as a high school intern.
All three participated in Tribal youth activities and when the Tribal pre-school opened, Zoey attended there.
After all these years, Tresa says, "I just couldn't see myself working anyplace else."
Which means she'll probably be the Tribe's first 40-year employee as well.