Tribal Government & News
Tribe holds annual meeting with Willamette National Forest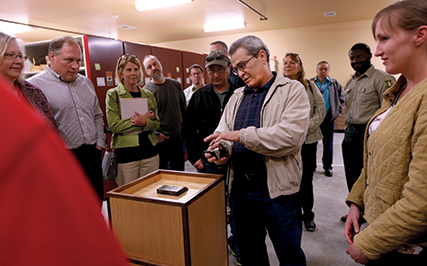 Managers from the Confederated Tribes of Grand Ronde met with their counterparts from Willamette National Forest for a second annual meeting on Tuesday, April 29, inside Chachalu Tribal Museum and Cultural Center.
Just outside of the building's entrance, members of the Grand Ronde Land and Culture and Education departments worked on a Tillamook-style plankhouse, a cedar exhibit showing traditional plankhouse living.
Cedar for the exhibit and a sheath of cedar siding starting in the back of the building and growing around the outside was a gift from Willamette National Forest. Tribal Council contributed $2.7 million for the first phase of the museum.
These signs of cooperation between the two governmental entities were complemented inside, where Willamette National Forest managers sought input from the Tribe about on-going, planned or recently completed projects, and the Tribe discussed many of its own.
The 1855 Willamette Valley Treaty, many federal regulations and the overall federal trust responsibility to Tribes require the U.S. Forest Service to seek Tribal input through consultation on forest actions in the Tribe's ceded lands, which include Willamette, Siuslaw and Mt. Hood national forests.
More recently, Memoranda of Understanding have been signed among the parties leading to a specific and official level of cooperation.
Work for the meeting also included housekeeping questions about the best ways to work together.
For example, one issue asked whether the Tribe wanted consultations with each of the federal forests separately or all at once. Participants scheduled another meeting to work out policies. If they agree to see all three national forests in one meeting, this will be the first time the Tribe has met with all three at once.