Tribal Government & News
Winter storm closes Tribal offices for 2.5 days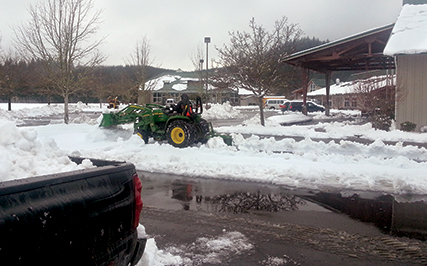 In what seems like a quinquennial - occurring every five years -- event, a winter storm hit western Oregon on Thursday, Feb. 6, and forced the closure of Tribal offices in Grand Ronde and Portland starting at 1 p.m. and lasting through Monday, Feb. 10.
According to AccuWeather, four inches of snow fell in the Grand Ronde area on Feb. 6 and 6.4 inches fell two days later on Saturday, Feb. 8.
With temperatures hovering below 32 degrees, very little melting occurred.
Grand Ronde was not alone. The winter storm that moved up the Willamette Valley dumped rain over a layer of cold air and the resulting snow and ice virtually shut down activities from Eugene to Vancouver, Wash., for four days. It also made it a dangerous proposition for Tribal employees to drive to work or even attempt to get out of their driveways.
Tribal General Manager Mark Johnston released employees beginning at 1 p.m. Thursday so they could get home safely and closed Tribal offices on Friday and Monday.
In addition, most Willamette Valley school districts, including the nearby Willamina School District, were closed on Friday and Monday, as well.
But just because Tribal offices were closed doesn't mean every Tribal employee had a 4.5-day weekend.
"I would like to thank all of the team that worked so hard clearing the campus of snow and ice today," Johnston said in a Sunday, Feb. 9, e-mail. "Tyson (Mercier), Dave (Fullerton), Gregg (Leno), Winston (Mercier), Brad (Leno) and Jesse (White) … thanks for going above and beyond. Also, Lonnie (Leno) and his team at Housing did a great job of keeping Housing, Adult Foster Care and the Elders' Activity Center cleared."
Tribal Health & Wellness Clinic employees opened the Pharmacy from 10 a.m. to 2 p.m. Monday, Feb. 10, to allow people to pick up needed prescriptions.
And Finance Department Accounting Specialist Laura Mercier worked on Monday, Feb. 10, to ensure Tribal payroll was processed and that Elder checks were mailed on time. Mail Room Clerk Anna White also came to work on Friday to post checks that needed to be mailed.
The last time that the Tribal offices were closed by such a huge deluge of snow occurred in December 2008 when the Tribal campus was closed for a week after 17 inches of snow and more than an inch of rain, mostly freezing, fell in western Oregon the week before Christmas.