Tribal Government & News
Kennedy participates in OHSU panel about Native health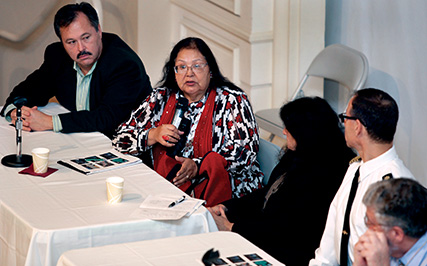 Marking national and Oregon Native American Heritage Month, a gathering of Native American wellness professionals told an audience of about 50 doctors, medical students and researchers at Oregon Health & Science University on Monday, Nov. 5, that healing is taking place in Indian communities.
Native leaders Cheryle A. Kennedy, Grand Ronde Tribal Council member; Dr. Donnie Lee, acting director of the Office of Clinical Support in the Portland office of the Indian Health Service; Jackie Mercer, executive director of the Native American Rehabilitation Association of the Northwest; Joe Finkbonner (Lummi), executive director of the Northwest Portland Area Indian Health Board; and moderator Dr. R. Dale Walker, director of OHSU's One Sky Center, focused on programs addressing issues of Native wellness today.
"We learned we're not in this alone," said Kennedy of the resources the Native community has developed.
She also referred back two and three generations to when medicine people in her family taught her about Native plants and their healing properties, and the value of self-reliance.
"My grandmother said, 'Where's your health? It's right there at the end of your arms,' meaning we help ourselves."
Lee noted many of the continuing health disparities that Natives in the Northwest face: twice the poverty level of the general population, two to four times the deaths from accidents, 1.7 times the suicides and 2.3 times the rate of diabetes, with 39 percent of Native women still experiencing domestic violence.
To meet these needs, Indian Health Service receives $4.3 billion a year, or $2,741 per person compared with the overall national poor population that receives $7,238 per person in federal funding.
"Woefully underfunded," is how Lee described Indian Health Service programs.
"We need to work together," he said.
Considering Native American history over the last 150 years, "It's really about trauma," Mercer said, "and helping people overcome trauma to have opportunity."
The Native American Rehabilitation Association model "is about integration of services," Mercer said. "Health reform is going to happen, and we know that that's about community, because community heals."
She also expects that health care reform through the Affordable Care Act will improve outcomes and the quality of care, and will cut costs.
Finkbonner noted that federal aid for Native American health care needs is "not about race. It's about political status" that comes from treaties of the 1850s.
"The ceding of our lands by our Treaties," said Kennedy, "in essence pre-paid for our health care. We paid for it with our land.
"And still," she added, "Native Americans have the least health care funded in the United States."
"It was the first prepaid medical system in the country," said Finkbonner.
Despite continued inequalities, Finkbonner noted significant improvements in Native health. In 1974, Native American males had a life expectancy of 48 years compared with 68 years for all Americans; today, Native Americans are living only six years less than the general population.
"We're thinking seven generations out, and this shows how good that is," Finkbonner said. "There are marked improvements in many areas, but we still have a significant way to go."
On specifics, Kennedy made a few suggestions: "If I could give one piece of advice to doctors working with Native Americans, I would say, 'Take a little more time for Indians to warm up to you. Take the mystery out of what Native patients are facing.' "
She asked providers to "think about what our norms are."
In addition, she said that because Tribes are mostly located in rural areas, "Recruitment is a huge issue for us. There is a real shortage of community health nurses.
"It would be a wonderful gift if we could overcome drug and alcohol problems. Our health care bill would shrink if we get a hold of these costly diseases."
Meetings like this make a difference, said Donovan Redtomahawk (Dakota Lakota), a senior research associate in the Smoking Cessation Center at OHSU. "Traditional medicines, I believe, are going to become more common," he said. "New knowledge will be available for Native American urban communities."
Still today, he added, "Many urban Native Americans are unaware of what a sweat lodge is."
For Matthew Town, a medical sociology Ph.D. candidate at Portland State University, the "dialogue is always good. It's a good reminder of the things we're doing. Having agencies come together and partner shows what can be done."
"We know that mutual respect is the key to all of this," Kennedy said.
Walker announced that OHSU is actively seeking Native students and wellness professionals to the health care university and community. He quoted writer Sherman Alexie (Spokane), saying the "evolutionary process," is ongoing, with Natives already in leadership positions in all avenues of American life.
OHSU's One Sky Center is "a national resource center for American Indian and Alaska Native health, education and research," according to its Web site. "It is dedicated to quality health care across Indian Country.
"Current initiatives include Evidence Based Practices in Indian Country and a Native-to-Native Mentorship program for graduate students and junior and mid-career faculty interested in substance abuse research," according to One Sky's Web site.
The gathering was sponsored by One Sky Center and the OHSU Center for Diversity and Inclusion.