Tribal Government & News
Martin named Tribal Council executive coordinator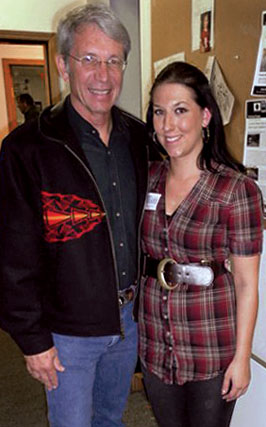 Former Hatfield Fellow Stacia Martin, 27, has been named Tribal Council executive coordinator.
Beginning Sept. 17, Martin took on the responsibility for keeping Tribal Council members informed, including providing background materials for all the matters the elected Tribal leaders deal with from day to day.
"My position," Martin said, "also acts as a liaison to Tribal committees and special event boards, and establishes and maintains effective working relationships with other Tribal, state, federal and local government agencies and businesses."
Martin brings years of congressional experience to the post. After her fellowship in the office of U.S. Rep. Kurt Schrader, D-Ore., Martin was hired full-time as the congressman's communications director and district representative for Tillamook and Lincoln counties.
Her specialties include fisheries, transportation, community development, grants, the Federal Emergency Management Agency and ocean issues, including tsunami, marine debris, and wave and wind energy.
Before being named the 2009-10 Hatfield Fellow by Spirit Mountain Community Fund, Martin interned in the Tribe's Legal Department and also worked for the Oregon Senate.
She graduated from the University of Oregon in 2008 with a bachelor's degree in Political Science with a focus in International Relations.