Culture
Community Fund awards quarterly grants to nonprofits, Tribes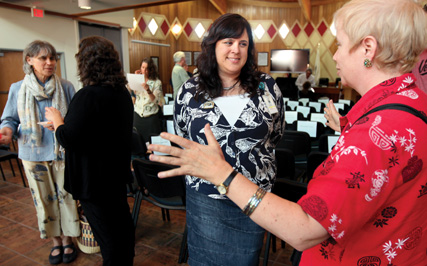 As part of the Tribe's most recent effort "to improve the quality of life in Oregon consistent with the Tribe's values," Spirit Mountain Community Fund gave out $902,699 in grants to Oregon nonprofits and Tribes on Wednesday, Sept. 12.
In 34 grants to nonprofits, the Community Fund awarded $502,405, funding projects in education, health, arts and culture, environment, historic preservation and public safety.
This quarter's recipients included the Black Parent Initiative of Portland, a 6-year-old nonprofit that uses parent training and coaching to bring about family stabilization in Multnomah County, said Charles McGee, president and CEO of the nonprofit. The $20,000 award will enable Black Parent Initiative to increase services to 250 families from the 200 it served before the award.
This was the first Community Fund grant award for the group.
Many of this year's recipients have received awards in previous years.
"We are proud to have long-standing partnerships with some of our grantees," said Spirit Mountain Community Fund Director Kathleen George. "Consistency and sustainability are essential to some programs. While SMCF is a one-year funder, there are some nonprofits whose mission is so aligned with Tribal values that we are not surprised to find that they have brought us successful applications for many years."
A grant to Woodburn-based Farmworker Housing will improve family and children literacy among farm worker parents whose first language is indigenous to South and Central American roots and whose second language is Spanish. Most do not speak English.
"We're teaching kids and their parents to read," said Executive Director Roberto Jimenez. The $15,000 grant will allow the group to provide services to 60 families, up from the 40 it served before the award.
This was the seventh Community Fund award to Farmworker Housing. Since 2001, the Community Fund has given $252,851 to the nonprofit.
Eugene-based Willamette Farm & Food Coalition received $20,000 to teach children and families in Lane County about local sources of good quality food, and also increase their access to it, said Program Director Megan Kemple. The grant will allow the program to reach more than 1,000 children and families, and is the fourth grant the group has received from the Community Fund. Since 2008, the fund has given $35,000 to the group.
Beyond Toxics received $5,000 for a project entitled "Environmental Justice & Toxics Exposure: Madres por la Salud (Mothers for Health) Project." The funds will enable Project Coordinator Alison Guzman to work with Latino mothers in their lower income communities in an industrial area of west Eugene to teach about "the connection between the environment and health," said Executive Director Lisa Arkin.
The funds will enable Guzman to work with 40 to 50 mothers and, including their families, it will translate into helping four times that many people, Arkin said.
The 12-year-old organization is "one of the few environmental justice nonprofits in Oregon," Arkin said.
"We're giving voice to an underserved population in Eugene," said Guzman.
The Community Fund has given the group three grants totaling $15,000 since 2007.
"These recipients represent a great cross-section of our community," said Community Fund Program Coordinator Louis King.
Grants to six Oregon Tribes included $75,000 to the Burns-Paiute Cultural & Heritage Preservation program; $100,000 to the Confederated Tribes of the Coos, Lower Umpqua and Siuslaw for a Dental Clinic Electronic Dental Records and Digital X-ray system; and $58,000 to the Grand Ronde Tribe for the Seven Tribes Exhibition and Display Cabinetry Project.
"The Tribe is much more than the casino," said Community Fund Board Chairman Sho Dozono.
He was joined at the check presentation by Tribal Council members who are also on the Community Fund board: Reyn Leno, then vice chair, now chairman; Toby McClary, then a Tribal Council member, now Tribal Council secretary, and Tribal Council member Steve Bobb, who gave the invocation.
"The Confederated Tribes of Grand Ronde is a very generous Tribe," said then-Tribal Council Chairwoman, now Tribal Council member Cheryle A. Kennedy, "and it always has been."
After a few years of reduced funds, stemming from the 2008 economic meltdown, funding available for gifts today is "moderately back on the rise," said George.
The Community Fund has now distributed $57.7 million to nonprofits in 11 western Oregon counties and to Oregon's nine federally recognized Tribes since its inception in 1997.