Tribal Government & News
Elder housing solar panels returning juice to the grid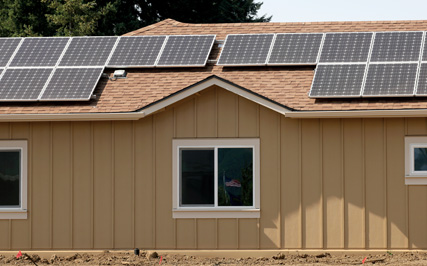 With the second low-income Tribal Elder housing development scheduled for completion and occupancy this fall, the Tribe has embarked on its third solar panel installation project.
The new installation serves the 20 two-bedroom, one-bath units and the three three-bedroom, two-bath "grandfamily" units with 10 percent to 40 percent of their electrical needs, said Don Coon, Tribal Housing Authority Housing Improvement coordinator.
Housing units facing south, best for making the most of solar panels, each received eight solar panels that deliver 2,500 kilowatt hours of power a year, which amounts to two to four months of electricity free at current rates, Coon said.
The solar energy collection is improved because the units are well insulated and served by efficient heat pumps that heat the units in the cold months and cool them in the warm.
For housing units not facing south, the project installed as many as 32 panels on the top of carport structures and then devoted eight panels worth of electricity to each of the housing units.
The housing units also are fitted with outside doors for Tribal maintenance crews to access furnaces, water heaters, communication systems and solar wire connections without bothering residents.
"The selection of the solar technology for Elders Phase 2 was based on rate-of-return and best use for the new structures as well as providing a direct payback," said Project Manager and Tribal Engineer Jesse White.
Solar tubes also were installed in each unit. Solar tubes are mounted on the roof and diffuse natural light into the home. "This additional project cost will be measured in reduced need for electric lights," White said.
The state's Net Metering program allows the Tribe to send excess electricity back to Portland General Electric, the power company in the area, and receive credit for that electricity. Because storage of electricity is not economical, the Tribe's excess power goes right back on a minute-by-minute basis into the power grid.
Previous Tribal solar projects include the Tribal Housing Authority carport structures, completed in April 2010 and now providing more than 60 percent of the electric needs of the Housing Authority office and shop.
In 2011, the Tribal Energy Efficiency Program through Education and Innovation program provided $10,000 grants for Tribal homeowners who wanted to install solar electric or solar thermal panels on their homes. The program served 12 Tribal member homes before being suspended as the poor national economy put pressure on Tribal funds.
"I like the solar electric because we're starting to pay the Earth back," Coon said. "And we owe the Earth a lot."