Culture
Community Fund aids 31 nonprofits at June 13 presentation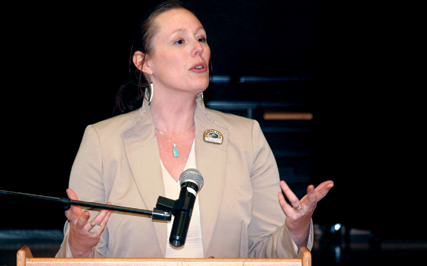 Spirit Mountain Community Fund awarded $553,640 in grants to 31 recipients during the second quarterly series of check presentations for this year.
Director Kathleen George announced the grants at a June 13 meeting held in the Tribal gym.
"The Grand Ronde Tribe has overcome many challenges to build a community, a new homeland, restore Tribal culture and develop many services and jobs for both Tribal and nonTribal people. But our own challenges have not overshadowed our awareness of the needs of others," George said.
"The community took care of us when we were terminated," Tribal Vice Chair Reyn Leno said, "and our commitment now is to take care of this community."
Leno, who sits on the Community Fund's Board of Trustees, said that the Tribal community does not agree on everything, but giving money through Spirit Mountain Community Fund is something everybody agrees is "one of the good things we do."
Recipients were:
Altrusa International Inc., $4,000 for a project called KidzShop;
Ayla Birth, $4,000 for prenatal, birth and postpartum breastfeeding support for inmates and caregivers;
Big Brothers Big Sisters of Lane County, $15,000 for a school-based mentoring program;
Bradley Angle House, $40,000 for culturally-specific domestic violence support, shelter and advocacy services;
Bringing Back the Bow Corp., $3,500 for the Grand Ronde traditional bow building camp;
Carlton Together Cares Inc., $20,000 for a summer youth work experience program;
Casa of Lane County, $20,000 for a program called A Voice for Every Child;
Center for Earth Leadership, $4,000 to strengthen and expand the Citizen Agent of Change network;
Children's Relief Nursery, $35,000 for building healthy families;
Circus Project, $5,000 for the "High Flyers" circus outreach program for at-risk youth;
Constructing Hope Pre-Apprenticeship Program, $24,140 for addressing workplace and life skills barriers for employment;
Friends of Family Farmers, $10,000 for ensuring that the next generation of farmers are socially and ecologically responsible;
Hand2Mouth Theatre, $5,000 for "Something's Got Ahold of My Heart";
Library Foundation Inc., serving the people of Multnomah County, $10,000 for the Social Stories Pilot Project: connecting at-risk families with the library;
Native Arts and Cultures Foundation Inc., $25,000 challenge grant for a community-based initiative;
Northwest Earth Institute, $16,300 for increasing access to sustainability education for emerging student leaders;
Northwest Kidney Kids, $5,000 for Kidney Camp 2012;
Old Mill Center for Children and Families Inc., $20,000 for the Relief Nursery Child Abuse Prevention program;
Oregon Children's Foundation, $50,000 for Yamhill County SMART programs;
Oregon Coast Children's Theatre, $7,500 for the "World Life" Environmental Science and Arts Educational program;
Oregon Cultural Access, $4,000 for Inclusive Arts Vibe program;
Oregon Health and Science University Foundation, $25,000 for training health professionals while supporting the health of Oregon's underserved;
Oregon Native American Chamber, $20,000 for capacity building for a better future for Oregon's Native communities;
Portland Community Reinvestment Initiatives Inc., $40,000 for healthy food access for the Portland housing community;
Relief Nursery Inc., $50,000 for Relief Nursery of Springfield;
Returning Veterans Project, $15,000 for the 2012 Service Enhancement project;
South Lane Mental Health Services Inc., $20,000 for expansion of Children and Families Mental Health Services;
Sustainable Urban Neighborhoods, $5,000 for the 2012 Community Harvest program;
SWSC Community Projects, $1,200 for Saidie's Cupboard, which provides essential household and infant care items;
Willamette Heritage Center at The Mill, $20,000 for the creation of the new Kalapuya History and Cultural Gallery.
The challenge grant to the Native Arts and Cultures Foundation serves as an incentive to help the group leverage more money. It requires that 90 percent of the funding needed for the project, including the Community Fund grant, be raised before the Tribal funds are released.
Additionally, the Tina Miller Teen Club of Willamina, scheduled to receive a $5,000 Celebration Grant at the Community Fund's 15-year celebration in May, received its check. The group was unable to attend the 15-year celebration, but attended the June 13 event.
The Tina Miller Teen Club was the selection of Tribal Council member and Community Fund Board of Trustee Steve Bobb Sr. He remembered when Tina Miller sat on her porch, which is now the entrance to Willamina City Hall, with a "herd of cats. She took care of all the strays, so it's very fitting that the teen center is named after her. It's a place where kids know that they're cared about, where they know that they're loved."
The $3,500 grant to Bringing Back the Bow will help fund a traditional bow camp at the Tribal Powwow Grounds on June 27-30. This is the first year for this traditional bow-building class in Grand Ronde, run by Jack and Brenda Holthaus, who have brought similar classes to Tribal peoples across the country.
At the time of the presentation, Jack was on the Pine Ridge Reservation with the program and was headed next for the Cheyanne Reservation, both in South Dakota.
The funds are used to buy bow wood staves and arrows, and to pay teachers, said Brenda, who accepted the check. The Grand Ronde class, set up in conjunction with Tribal Cultural Education Specialist Brian Krehbiel, is expected to teach 100 to 125 Tribal and community youth how to make traditional bows.
A $20,000 grant to Willamette Heritage Center at The Mill will help fund a permanent Kalapuya exhibit in the Parsonage building. Scheduled to open in May 2013, the exhibit will be part of three redesigned permanent exhibits at the heritage center.
The Community Fund Board of Trustees selected the 31 recipients in an April meeting from 110 applications, Administrative Assistant Kluane Baer said. This compares with 28 grants totaling $388,200 in the fourth quarter of last year, but 41 grants totaling $1,130,511 for the second quarter five years ago before the 2008 national recession, Baer said.
The fund has provided more than $56 million to local nonprofits since its inception in 1997. In recent years, that has translated into donations of about $3 million a year to local programs and services. The grants benefit citizens striving for self-sufficiency and come through Spirit Mountain Community Fund, the Hatfield Fellowship and the Oregon Tribal Grant program.
The Community Fund funds projects in the areas of Arts & Culture, Education, Health, Historic Preservation, Public Safety, Environmental Preservation and Problem Gaming.
The annual total of grants represents 6 percent of the profits from Spirit Mountain Casino and is the result of negotiations between the state and Tribe as part of the license application for Spirit Mountain Casino.
George called the work of Spirit Mountain Community Fund "inspiring and humbling."