Tribal Government & News
EPA summit brings Tribal leaders to Grand Ronde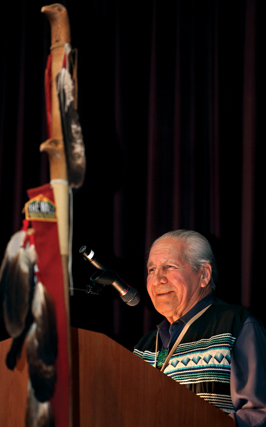 This year's EPA Region 10 Tribal Leaders' Summit, hosted for the first time by the Grand Ronde Tribe and held at Spirit Mountain Casino from April 30 through May 4, took on an amazing variety of ideas.
These included developing traditional courts to deal with environmental pollution; providing a healing conversation for Native residents of Bristol Bay, Alaska, threatened with environmental devastation by a proposed mine; creating self-sustaining landfills; asking why oil and gas are so expensive when they are our own natural resources; and requiring insurance assessments on ecosystems before locating energy production facilities offshore.
Four Washington Treaty Tribes reported delivering a white paper to the White House this year, saying that Treaty rights are at risk from habitat loss and the decline of salmon runs.
Tribal Ceded Lands Manager Michael Karnosh made a presentation to general conference attendees describing Tribal consultation needs from the Grand Ronde perspective.
"This enabled federal agency staff in attendance to learn of Grand Ronde's consultation rights on its ceded lands and in all of its usual and accustomed areas," Karnosh said, "and also the Tribe's preferred consultation methods. I made a lot of good consultation contacts immediately after that presentation when several agency folks approached me.
"Post-conference, the Ceded Lands Program will continue to push for increased and improved consultation from governments on issues of Tribal importance."
Concerns were expressed over toxins in traditional foods.
Addressed in many ways, one big concern was how to address the threat of climate change. Cylvia Hayes, Oregon's first lady, said that a sustainable economy will only be based on a sustainable environment.
On opening night, the Tribe welcomed participants with prayer, song and traditional fare at the Tribal plankhouse.
"One of the things that really draws federal agencies and all humans is the opportunity to experience something so ancient," said Sally Thomas, manager of EPA's Region 10 Tribal Trust & Assistance Unit. "It speaks to us on a level that I'm not sure people can articulate, but it pulls us all in and pulls us all together."
"It gives context to the whole conference," said Brandy Humphreys, Environmental Resources specialist for the Tribe's Ceded Lands Program and this year's summit coordinator on the Tribal side. "I remember Sally turned to me during the ceremony and said, 'I have goose bumps.' Well, I've seen it before, and it gave me goose bumps, too."
"It takes you to a basic place within us and resonates deeply," said Thomas.
In introducing keynote speaker Oren Lyons, Tribal Council member Toby McClary called Lyons "a perfect model" for himself. "I'm honored to be the one to introduce him."
Lyons is a Faithkeeper and Elder of the Turtle Clan of the Onondaga and Seneca Nations of the Iroquois Confederacy in upstate New York. He spoke about how late the hour is to save the Earth from the widespread disregard humanity has shown for the planet.
"The U.S. and China are the world's main polluters," he said, "and neither is showing any leadership."
Specifically, he described Section 322 of the Energy Policy Act of 2005 that included what he called, "The Halliburton Loophole." It excepted hydro-fracking from the Safe Drinking Water Act.
"Eighty-five percent of the Congress voted for it," he said, including then-senators Barack Obama and Hillary Clinton.
As a result of that legislation, he said, "They can now poison your wells legally. It can be changed," he said. "It has to be changed. There is no alternative to water."
Just then, a baby's cries were heard. "I hear that baby," said Lyons. "It's talking to every one of us.
"Basically," he said in his keynote to a packed lunchtime crowd, "it's do or die. Don't give up. The game is not over, but it sure is coming to the last round. It's going to take everything we have to survive.
"What is our cause? To think about the seventh generation coming; look out for them and you're looking out for yourselves, but you'll need a skin seven spans thick.
"Everyone has a story," he said his father told him, "and when somebody asks for your help, you have to put down your work and help. Sometimes, you never finish your own work, and that's how it should be."
In another session, "Taking the Sexy Out of Drugs," representatives of the Confederated Tribes of the Colville Reservation, the Tribal Solid Waste Advisory Network, of which Tribal member and Tribal Waste Water Treatment Manager Lewis Younger is a member, Washington State Patrol and the Yukon River Inter-Tribal Watershed Council took on the case for fighting drugs on Northwest reservations.
"Marijuana growing operations," said Don Hurst, program manager for Paramilitary Aggroculture on the Colville Reservation covering 1.4 million acres, "are not hippies growing pot for personal use. These are Mexican mercenaries who camp out for four to five months with firearms on site and big rewards for delivering the crop.
"The solid waste generated includes household garbage, agricultural (including chemical) garbage and the remains of marijuana plants themselves," he said.
In 2009, his group uncovered 21,000 plants in six growing operations at a cost of $11,000. "Native agriculture is taken out and trees are pruned up six to eight feet to create a canopy. Reservoirs are built to feed miles of irrigation piping."
"You have never met a master gardener until you meet somebody growing the best pot on earth," said Daniel Brudevold, the Colville Tribe's Land and Properties management director. Calling current laws "a failed federal policy," he said, "The question is how to regulate the process and clean it up."
"If we lose our parents to meth, we lose the past; if we lose our significant others, we lose the present; but if we lose our kids, we lose our future." said Washington State Patrol Trooper Jeff Kershaw, who has responded to calls about more than 500 meth labs in his 24 years on the force.
"Thirty-four Tribes in Washington, Oregon and Idaho are dealing with meth labs," said Kami Snowden, executive director of the Tribal Solid Waste Advisory Network. "The more we looked into it, the more we were finding. They drive onto the reservations, cook the meth and leave (the dangerous byproducts) behind.
"Our concern," she said, is "how do we keep our workers safe?"
"Meth destroys communities and affects every part of our society," said Jon Waterhouse, director of the Yukon River Inter-Tribal Watershed Council. "We see it and we ignore it. (Europeans) took away our language, our lands, our past, but meth takes away our future. Actively take this on. Dial 911, and win."
Approximately 375 federal and Tribal leaders and staff attended the summit, said Humphreys. There are 271 federally-recognized Tribes in the Northwest region, which includes Alaska, Washington, Oregon and Idaho.
"It was a dual-conference," she said. "Monday and Tuesday focused on leader-to-leader interaction, while later in the week presentations on technical subjects were scheduled."
Five topic areas for technical presentations included solid waste, toxics, sustainable growth and communities, building blocks of Tribal programs and hot topics.
Dozens of summit attendees took advantage of the opportunity to see how Tribal Natural Resources staff members handle fish monitoring at the fish weir and habitat restoration on Agency Creek.
"The Tribe received a grant to pay for the vast majority of costs to host the event," said Humphreys, "which brought income into the community. In addition to financial benefits, many Tribes and agencies from across the region were exposed to Grand Ronde's beauty, culture, history and artists.
"I was gratified to see great involvement by those attending. I'm hoping that a lot of new partnerships were developed amongst Tribes and agencies. I'm also hoping that federal agencies that haven't previously built relationships with Tribes as EPA has, will feel more comfortable contacting and partnering with Tribes and will devote more resources to building these relationships in the future."