Health & Education
Grand Ronde hosts two-day Indian education conference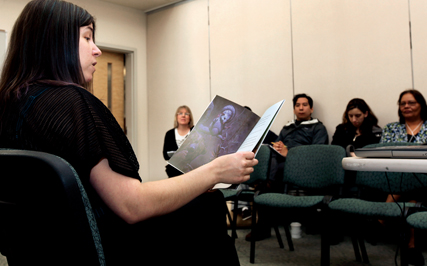 "Classroom management is a must," said Tribal member Shelby Olson Rogers, who is Indian Education Program assistant at the Salem-Keizer School District. "With good class management, you can get a lot more done."
Rogers was leading a session on teaching families literacy strategies.
Showing a group of about 15 people how to teach family literacy, Rogers was one of about a dozen Grand Ronde Tribal members who participated in this year's Oregon Indian Education Association Conference, which was hosted by the Tribe on Monday and Tuesday, April 2-3, at the Tribal Education Center and gymnasium.
The 37th annual conference, "Dig Deep: Revitalizing American Indian & Alaska Native Education," included 30 breakout sessions and keynote speaker Ron Pond, a retired Umatilla educator who said that initiatives "have to come from the grassroots (but) it seems like we're disconnected."
Tribal Elder and Tribal Librarian Marion Mercier also contributed to the session on family literacy, having hosted many such classes in the Tribal Library in recent years.
Tribal Elders Marta Clifford, her sister, Dell Dickison, and Tribal member Kevin Simmons joined University of Oregon Assistant Professor of Theater Arts Theresa May in performing parts of the play "Salmon Is Everything," the story of the 2002 Klamath River fish kill from Tribal and other perspectives.
May was teaching at Humboldt State College in northern California at the time of the fish kill. She attended a conference in the tragedy's wake and saw that Native Americans, who sat in the back, were never asked their views.
Knowing that "theater has the capacity to touch the human heart," May worked with Native students and staff to develop a play based on interviews with Native peoples in the area -- "the community that experienced the fish kill" -- and shepherded their comments and memories into this play.
"Salmon is something bigger than ourselves," says one character.
"Salmon is the will to go home and the wisdom to know the way," says another.
Some 70,000 fish carcasses lined 30 miles of the Klamath River by the time the kill ended.
"It gave me a huge awareness of the amount of people who do not understand that salmon are not just a fish," said Clifford, who acted in one of the two full performances the play has had since 2006. "It took me to another world."
Today, May is turning the play into "an interdisciplinary tool, weaving together subject content from society and culture, environmental studies, science, Pacific Northwest history, Native cultural studies and, of course, drama and literary studies," according to the education conference program. It soon will be available for classroom use.
Simmons, who is finishing a master's degree in the University of Oregon's Special Education Program, also participated in a group describing "How to be an Advocate for Students Served by Special Education."
The education model where "time is the constant and learning is the variable is dead," said Mark Siegel, Delphian School assistant headmaster. A long-time education innovator, Siegel promoted "proficiency-based" learning where teachers throw out grades and age-based grade levels for a system where students demonstrate proficiency in an area before moving on.
"It's so obvious to me that this works," Siegel said. "For us to stand in front of a class and talk for an hour is the second dumbest thing we can do."
The change is from "the factory model," which has been in existence since the Industrial Revolution in the 18th century, that was designed to prepare students to work in factories, said Siegel.
"It changes everything to say 'this is what you know; this is what you need to learn,' " he said.
And the best news is, the proficiency-based model "is on its way," he said.
Retired Oregon State Ethnic Studies Professor Kurt Peters (Blackfeet/Powhatan), who last year brought Oregon State football players and other students to the Grand Ronde Tribe during spring break to meet with Tribal members, talked about the value of establishing creative partnerships within higher education.
"Over 16 years, we had people taking spring break, summer break away from campus to talk to Tribal people, to learn what makes a Tribe run. These students became the best friends of the Tribes," he said. "Some had lived right next to Tribes, but had never visited."
Guest presenter Paul Figueroa, with Peace Village LLC in Seattle, donated time to present sessions on "Compassionate Classrooms," "Violence Prevention & Self Esteem Support" and "The Big Picture is Amazing/Rekindling the Fire."
Conference sessions also covered science education for Tribal students; Indian mascots; the state education plan; paying for college; preventing disciplinary exclusions of Native students; and developing curricula that honors Tribal legacies.
"The workshops were really helpful," said Tiffany Stuart (Siletz with Grand Ronde and Cherokee ancestors). She is studying special education in the Sapsikwala program at the University of Oregon. She was a teacher for three years on the Nez Perce Reservation before going back to school.
"The workshops spark ideas," she said. "You can take parts of what you learn here and apply just those parts that fit."
More than 60 people attended the event in addition to some 30 presenters, many of whom also participated in other sessions. It was slightly more than half of previous conferences, but, said Tribal member and Tribal Education manager April Campbell; the timing competed with teachers returning to the classroom the first week after spring break and another conference.
Campbell thanked the Planning Committee for all their work in organizing the event. The committee included Tribal members Kathy Cole, Lisa Archuleta, Frank Simmons and Kristy DeLoe, along with Tribal employees Debbie Bachman, Sandy Bobb, Jilene Mercier, Luhui Whitebear, Siobhan Taylor and George Valdez.
The April 2 evening meal provided by Spirit Mountain Casino was sponsored by Grand Ronde's Public Affairs Department. The Grand Ronde Canoe Family provided cultural entertainment with drumming and songs.
At lunch on April 3, Native storyteller Ed Edmo (Shoshone-Bannook-Nez Perce) spoke.
Also on the final day of the conference, awards were presented and awardees, as follows, received framed artwork of a Chinook salmon.
Outstanding Indian Elder of the Year: Marion Mercier (Grand Ronde);
Outstanding Indian Educator of the Year: April Campbell (Grand Ronde);
Outstanding Indian Parent of the Year: Toni Driver (Assiniboine/Lakota);
Outstanding Teacher of the Year: Trinity Minahan (Siletz);
Outstanding Student of the Year: Alyssa Bahe (Burns Pauite);
Outstanding Volunteer of the Year: Shilo George (Southern-Cheyenne, Arapaho);
Outstanding Higher Education Student of the Year: Sky Hopinka (Ho-Chunk);
Che Butler (Siletz) and Luhui Whitebear (Coastal Band Chumash) were honored with Chinook salmon prints as well for their leadership with the state Department of Education Native American mascot project.
Further information can be found at the OIEA Web site at www.oiea.org.