Culture
Community Fund surpasses $56 million mark in giving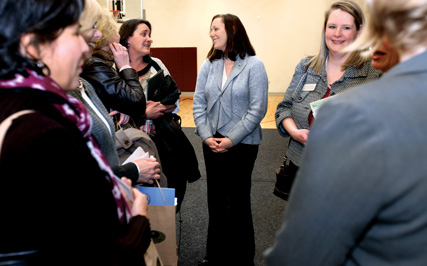 At its quarterly check presentation on Wednesday, March 14, in the Tribal gym, Spirit Mountain Community Fund hit another milestone, handing out its 1,789th grant and surpassing the $56 million mark in charitable giving.
The 30 grants totaling $420,800 given out on March 14 brought the Community Fund to $56,254,531.70 in charitable giving since its formation in 1997, said Community Fund Administrative Assistant Kluane Baer.
At the event, Tribal member and Spirit Mountain Community Fund Director Kathleen George thanked grant recipient representatives for allowing the Grand Ronde Tribe, through its philanthropic Community Fund, to partner with them in making western Oregon a better place to live.
The Community Fund receives 6 percent of Spirit Mountain Casino revenues and distributes the money in an 11-county area, assisting efforts in arts and culture, education, health, historic preservation, public safety, environmental preservation and problem gaming. The Community Fund also distributes grants to Oregon's nine federally recognized Tribes as part of its Oregon Tribal Grants Program.
After a welcoming song drummed and sung by Tribal members Bobby Mercier, Gregg Leno, Brian Krehbiel, Marcus Gibbons and Chucky Fryberg, Mercier delivered a bilingual invocation in English and Chinuk Wawa.
Spirit Mountain Community Fund Board of Trustees Chairman Sho Dozono, who has been on the board since 1997, thanked the Grand Ronde Tribe for its generosity.
"They (the Tribe) are more than just a casino," Dozono said. "They have invested in themselves and invested $55 million in surrounding communities. … Being on the board has been my best job ever."
Tribal Council Vice Chair Reyn Leno echoed the sentiment that the Tribe is more than its casino.
"It's always a great thing to have people come here and find out who we are and what we do," Leno said. "It's amazing to me, but a lot of people just think of us as the casino, but that is not really who we are.
"People think of the casino as revenue, but we think of it as educational scholarships, health care and housing for our people."
The Community Fund showed the 25th Restoration video to educate those in attendance about the history of the Tribe and how far it has come since 1983's Restoration.
Following the video, Community Fund Program Coordinator Louis King announced the grant recipients, who, after receiving their check, posed for a photo with Leno and Dozono taken by Tribal photographer Michelle Alaimo.
This quarter's recipients ranged from Eugene to the south to Portland to the north.
Programs funded help Oregon's special needs foster children, heighten poverty awareness, fight diabetes, assist in the effort stop Medicare fraud, purchase "jaws of life" for the Tillamook area and mentor the children of prisoners, among many other worthwhile efforts.
The largest grant -- $30,000 awarded to the Black United Fund of Oregon - will help the organization expand its "Think to the Future Education Initiative," said Executive Director Adrienne Livingston.
Livingston said the initiative seeks to offer scholarship workshops for black and Latino high school juniors and seniors, work with local universities and colleges in recruiting minority students and put on an annual college fair focusing on minority students.
"This grant is very important," Livingston said. "My staff has been dwindling and this will fund a position to bring all of those different components together to strengthen and grow the program. This is program expansion, and I would not be able to do it without the funding from Spirit Mountain Community Fund."
Other organizations receiving Spirit Mountain Community Fund grants on March 14 were:
A Family for Every Child in Springfield, $10,000;
Adaptive Riding Institute in Scotts Mills, $5,000;
Benton Furniture Share in Corvallis, $5,000;
Better Life USA in Portland, $2,500;
Birth to Three Inc. in Eugene, $25,000;
Boys & Girls Club of Salem, Marion and Polk Counties, $10,000;
Boys & Girls Club of Portland Metropolitan Area, $25,000;
Classroom Law Project in Portland, $10,000;
Coactive Connections in Salem, $4,300;
Emanuel Children's Hospital Foundation in Portland, $25,000;
Eugene Family YMCA, $10,000;
Friends of the Newport Senior Activity Center, $15,000;
Heidi Duckler Dance Theatre in Portland, $5,000;
Housing Employment & Learning Programs for Self-Sufficiency in Corvallis, $10,000;
Lane County Sheriff's Ground Search and Rescue in Eugene, $4,000;
Linn-Benton Volunteers in Albany, $2,500;
Live On Stage of Portland, $3,000;
Mid-Valley Mentors in Salem, $20,000;
Oregon Environmental Council Inc. in Portland, $6,000;
Planned Parenthood of the Columbia-Willamette Inc. in Portland, $20,000;
Portland Impact, $25,000;
Self Enhancement Inc. in Portland, $20,000;
The Confluence Project in Vancouver, Wash., $25,000;
The Geezer Gallery in Marylhurst, Wash., $3,000;
Wallace Medical Concern in Gresham, $25,000;
Wells Art Institute in Portland, $4,000;
Tillamook County Women's Resource Center, $25,000;
Tillamook Volunteer Firefighters in Tillamook, $21,500;
and Virginia Garcia Memorial Foundation in Cornelius, $25,000.
"The Tribe sees itself as part of the solution in many of our communities," George said in announcing that the Community Fund has surpassed the $56 million mark in giving.