Health & Education
Permaculture classes begin in Grand Ronde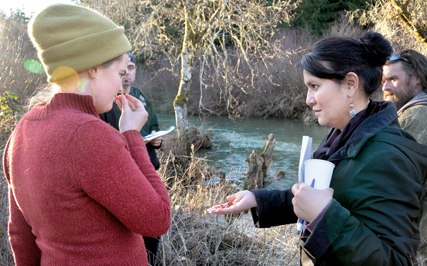 Smoke Signals staff writer
By 3 p.m. on a sunny Saturday, Feb. 2, afternoon in Grand Ronde, it was time for tea in the first Permaculture Design Certification class held in Grand Ronde.
The coordinating work of Tribal and Culture Committee member Perri McDaniel brought almost 40 into the Tribe's Education Center and occasionally also out to the meadows behind the Elders' assisted living facilities.
During the "site tour and tea harvest" section of the class, students picked western red cedar fronds, Oregon grape (really a berry bush) and Douglas fir branches along with a "small handful" of usnea (commonly known as tree lichen or "old man's beard"`).
Back in the classroom, Judy Bluehorse Skelton, a Portland State University faculty member, used the ingredients to make tea.
"It's good in cold and flu season," she said after serving it to the class.
Also in the field, many were drawn to the edges of Agency Creek, where they picked out the tree that would be perfect for a tire swing into the water. However, class leaders Abel Kloster and Tao Orion, co-directors of Aprovecho, a Cottage Grove-based research and education center focusing on creating sustainable communities, also asked individuals to see nature as few had done before.
The group was instructed to close their eyes and examine what could be learned about the area through the other senses.
One object of the exercise, Kloster said, is to be "observing the site without projecting our ideas on it. Walk around and let the birds and the plants tell you about the area before forming your own opinion. As the course goes on, we'll go back to this lesson again and again."
The 10-week course, held on Saturdays for eight hours a session through April, leads to a permaculture design certification, said McDaniel.
The class included some 15 Portland State students joined by Tribal and community members. Most Tribal members accessed Tribal continuing education funds to pay for the class, but Orion and Kloster encourage potential students not to miss the class because of cost. They will try to accommodate all who are interested. In addition, the Tribal Social Services Department has allocated funding to pay for daycare for any parents interested in attending.
"This is an awesome course," said Tribal member and former Culture Committee Chairwoman Kathleen Provost. "There is so much more information than I thought we'd have. And I'm really happy about the turnout."
The main goal for the class is to come up with a permaculture design for our lands, said McDaniel. In the second course, tentatively scheduled to start in late April, students will actually implement the best of the design ideas.
Certification requires 72 hours of class time.