Health & Education
Chess Club gives Tribal youth another opening for recreation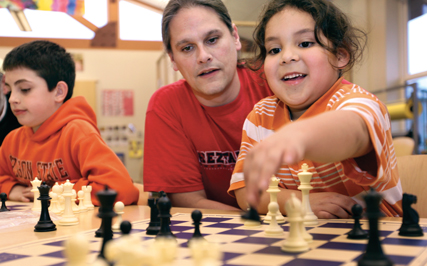 Smoke Signals staff writer
Not since 1997, when IBM's chess computer Deep Blue defeated reigning chess grandmaster Garry Kasparov, has there been this much excitement in Grand Ronde over one of the world's most difficult board games.
"The queen can move in any direction," says Tribal member Cohen Haller, 6, one of more than a dozen Grand Ronde kindergarten through fifth-grade students who play in the K-5 chess program. "I like learning all the different ways they move."
"So, Cohen," says Matt Bucknell, from the side of one of the games being played in the K-5 section after school on a recent Thursday afternoon. "You have these pieces here that are awesome. See if you can move one of them to put Dakota in check."
"It takes a lot of strategizing," says Tribal member Dakota Ross, 10. "You've got to think about your moves. Strategizing really stretches your intelligence."
Ross says that part of his strategy is to get his bishops out there to protect the more valuable players.
Tribal member Jacob Holmes, 6, likes the idea that he can beat his cousins at the game. He also says the excitement of the game gives him more energy.
Since October, the Tribe's K-5 students have been participating in the Portland-based Chess for Success program that brings them together to practice twice a week on Thursdays and Fridays after school.
Chess for Success has given the K-5 program quality boards and pieces, chess instructions and opportunities to play in local and regional tournaments, says Bucknell, K-5 and Chess Club lead.
The Tribal Library also benefits from the program with the gift of seven chess books: "Bobby Fischer Teaches Chess," "Simple Checkmates," "Chess," "Welcome to the Game of Chess," "Winning Chess Piece by Piece," "Checkmate Activity Book for Beginners" and "The Chess Book for Kids."
Tribal member Dominik Briant, 8, calls himself "a pure beginner," and says he prefers chess to checkers because he appreciates the added complexity of chess.
Later on, across the board from Ross, Tribal member Kaleb Reid, 11, was thinking about the two- and four-move checkmates he had learned.
"All I need is a rook to win," he adds.
Suddenly, it seemed, everybody got up from their boards because it was time to go to Tribal member Halona Butler's dance class down the hall.
"I think it's great," says Tiffany Tonso, 18, a Tribal member and high school intern for the program, "starting them this early. I started playing chess in the seventh grade. I kind of stopped and this encouraged me to get back into it and it's fun."
She sees improvement in the children who are playing. "I think a lot of time kids are focusing more. They're not as rowdy. There's definitely a couple of changes in a couple of the students."
On Feb. 11, three Tribal children from the program - Kaleb Reid, Dakota Ross and Audrey Mercier - participated with several hundred others from elementary schools in Yamhill, Polk and Marion counties at a regional chess tournament held at Henry Hill Elementary in Independence.
In the gym, where most of the games were played, signs posted to basketball backboards gave everybody an idea of what chess is about:
"Chess is life," said grandmaster Bobby Fischer.
"Chess is everything: art, science and sport," said grandmaster Anatoly Karpov.
The Grand Ronde team placed 11th, with Reid tying for sixth and Ross and Mercier tying for eighth during the day.
The whole team, many of whom had competing Tribal programs to turn to that Saturday, also includes Tribal members Cohen Haller, Dominik Briant, Nick Colton, Moses Mercier, Hattie Mercier, Madison Ross, Tara Thorsgard, Mason Mercier, Makenzie Aaron, JC Rogers and Izaiah Fisher, who is a member of the Confederated Tribes of Siletz Indians.
"It's a challenging game to learn," says Bucknell, "especially the strategy part, but kids have really grown in this area with critical thinking skills, strategy and planning.
"One thing about chess," he says, "is it's 100 percent about your ability to play. It doesn't matter whether you're a boy or a girl. One of the rewarding things about it is seeing a younger player competing with an older player. It can be a humbling experience and it gives you many opportunities to talk about and display sportsmanship."
Won-loss records can deceive, Bucknell says, because wins and losses are rated by how successful the opponent has been in other games.
"You may be losing games, but you may be playing tougher opponents," Bucknell says.
For the summer ahead, Bucknell has already secured a playground-sized chess game that has been in storage at Willamina Elementary. The Education Department has plans to paint a chess board on the concrete under the roof behind the Youth Education building.
Spirit Mountain Community Fund granted Chess for Success $25,000 in 2011. Low-income students, like many in Grand Ronde, make up almost 75 percent of the 2,400 students in 59 elementary and middle schools that the Chess for Success program aims to serve.
The program started in 1992 in nine Title I Portland Public schools to teach children high-level thinking and social skills.