Tribal Government & News
Mercier receives Leadership Award from Council of Governments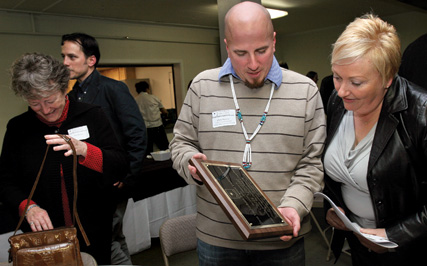 DAYTON - Tribal Council member Chris Mercier received the Gwen VanDenBosch Regional Leadership Award on Wednesday, Jan. 25, at the annual meeting of the Mid-Willamette Valley Council of Governments held at the Dayton Community Center.
Mercier, who is serving his third three-year term on the Grand Ronde Tribal Council, was nominated for the award by Tribal Elder Marilyn Portwood and fellow Tribal Council member Kathleen Tom, Tribal Attorney Rob Greene and Tribal Public Affairs Director Siobhan Taylor.
"Besides his full-time job as councilman, Chris is very active in groups that contribute to the county and the Willamette Valley," Portwood wrote on her nomination form, citing Mercier's chairmanship of Spirit Mountain Casino's Board of Directors and being a member, as well as past-president, of the Mid-Willamette Valley Council of Governments.
Portwood also listed Mercier's membership in the Yamhill Community Action Partnership, Yamhill County Transit Authority and Mid-Willamette Valley Area Commission on Transportation.
"Chris is always available to talk to Tribal members," Portwood added.
The Tom-Greene-Taylor nomination said Mercier "is a tireless advocate for his Tribe and the people of the mid-Willamette Valley" and that he has embraced "the responsibilities of being an active partner with our neighboring governments."
The nomination listed the numerous organizations on which Mercier represents the Grand Ronde Tribe. In addition to the ones mentioned by Portwood, Mercier serves or has served on the National Congress of American Indians, the Oregon Tribal Gaming Alliance, National Indian Head Start, Yamhill County Parkway Committee and as the Tribal representative to the Oregon Department of Transportation and the Willamette Partnership.
"Chris is a leader in promoting regional intergovernmental relations," the Tom-Greene-Taylor nomination says, citing his involvement in helping secure $4 million in Tribal funding for the proposed Newberg-Dundee bypass, concern for transportation safety improvements along the highways 18/22 corridor and his work to bring public transit from Salem to Grand Ronde.
Mercier, 36, is a graduate of the University of Oregon School of Journalism. Before being elected to Tribal Council for the first time in 2004, he was a contributing writer for the Tribal newspaper and received awards for his work from the Native American Journalists Association. He served as the youngest Tribal chairman ever in the history of the Tribe during the 2006-07 session of Tribal Council.
Mercier has said that this term will be his final one, an indication of his continuing support for term limits on Tribal Council. He is looking forward to pursuing his love of writing and travel.
Attending the awards ceremony were Mercier's brother, Bryan, and mother, Pat, as well as Tribal Executive Officer Chris Leno, Public Affairs Director Siobhan Taylor, Tribal Attorney Rob Greene, Tribal Council Senior Administrative Assistant Lauri Smith and Tribal Council member Kathleen Tom, who all stood and created the University of Oregon "O" sign with their hands as he received the award.
"Honestly, I never thought that I would be doing this," Mercier said in his acceptance speech. "I never thought that I would get into politics, much less Tribal politics. I did not know that I would serve three terms on the Grand Ronde Tribal Council. It was kind of tough at first … but I learned a lot from being on COG.
"I think the tendency is for people to assume that Tribal politics and Tribal government are vastly different from mainstream politics and mainstream government. I think there are differences, but I think there are more similarities than differences. So getting to serve with the people on COG and hearing their stories of the challenges they face, it's taught me a lot. … I'm honored to not only be recognized by you guys, but to work with you."
Mercier thanked Greene, Taylor, Smith, Tom and Leno for their assistance.
"I'm just honored to receive this award," Mercier said.
The Mid-Willamette Valley Council of Governments includes 32 Oregon cities and towns, three county governments, five special districts and the Confederated Tribes of Grand Ronde.