Culture
Community Fund honors two helping hands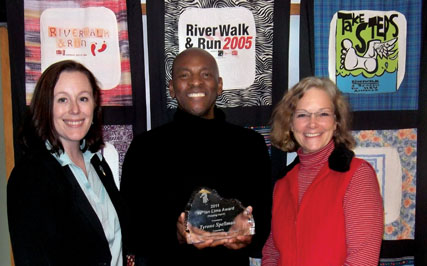 Spirit Mountain Community Fund Executive Director Kathleen George and Program Coordinator Louis King presented on Dec. 19 two Ye?Ian Lima Awards to people who exemplify community service and inspire their colleagues through their personal dedication.
The Community Fund, which has invested more than $55 million in community organizations in 11 northwest Oregon counties since its inception in 1997, recognizes exceptional people within organizations who embody the spirit, commitment and effort of the Ye?Ian Lima (Chinuk Wawa for "helping hand") Award.
2011 marked the second year for the award, which honors one paid non-management staff person and one non-paid volunteer.
Tyrone Spellman, a volunteer at the HIV Alliance in Eugene, was selected from among 24 nominees to honor the dedication of nonprofit volunteers.
The mission of the HIV Alliance, where Spellman dedicates countless hours educating about HIV, AIDs and prevention, is to support individuals living with HIV/AIDs and prevent new HIV infections.
Spellman is treasured as a spokesman-educator and for his ability to encourage diverse audiences to take courageous actions toward safe sexual practices, self-awareness and understanding.
"Our time for detours grows ever so short," Spellman said. "Abdicating our birthright to be of service to our entire global family is no longer an option."
The award winner in the paid non-management category is Larry Bardell, who works at Albany InReach Services. He was selected from among a long list of nominees who dedicate their work to serving the community through nonprofit organizations.
Albany InReach Services is a safety-net clinic that connects adults and children without health insurance with health care providers and needed services.
After retiring from the Veteran Affairs hospital as a psychiatric mental health nurse practitioner, Bardell has provided almost 400 mental health appointments in six months. He treats those with anxiety, depression, schizophrenia and suicidal feelings who would otherwise not have access to mental health services.
In addition, Bardell, who is bilingual, will begin teaching a postpartum depression education class for Albany InReach in 2012 for Spanish-speaking mothers.
Recipients received an award, complimentary dinner for two and a one-night stay at Spirit Mountain Casino and Lodge and a $500 cash gift.
"The dedication and service of people like Mr. Spellman and Mr. Bardell are what keeps the work of our nonprofit services alive in our communities," George said. "In these hard economic times, many people would not receive health care, counseling or outreach if it weren't for the tireless efforts of passionate people like these gentlemen. They are the heroes of our nonprofit agencies."
Recipients were nominated by their peers and selected by the Community Fund's Board of Trustees for their outstanding dedication and inspirational efforts in their respective organizations.