Culture
Community Fund tops $55 million in giving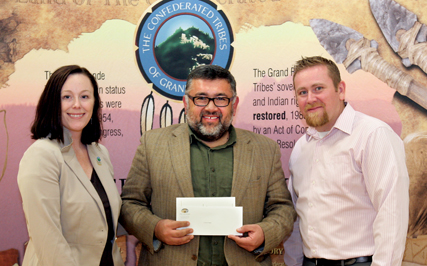 A gift of $20,000 to Salem-based CAUSA Oregon is particularly meaningful to Executive Director Francisco Lopez.
"It is important for me because I'm from El Salvador, of Mayan descent, and the money comes from an indigenous Tribe here," he said.
CAUSA Oregon will use the money to provide classes in leadership for indigenous peoples from Central American immigrant families now living in the group's 10-county area.
"This is very significant for us," he said.
For the fourth quarter this year, Spirit Mountain Community Fund on Dec. 7 issued 28 grants totalling $388,200. The event marked the Tribe surpassing $55 million in giving in less than 15 years. The event, held in the Tribal gym, also was the first funding round for the Community Fund's new director, Tribal member Kathleen George.
"It's a proud day for the Tribe and Spirit Mountain Community Fund," George said. "In less than 15 years, the Grand Ronde Tribe has invested more than $55 million to help with community health issues, improve education, increase public safety and protect our environment. It has always been a Tribal value to share our good fortune. And the Grand Ronde Tribe has been true to that tradition."
George was recently honored with the Columbia River Hero Award for 2011 by the Columbia River Toxics Reduction Work Group, an interagency group working to improve water quality in the Columbia Basin. The award was for work done before joining the Community Fund when she worked with the Umatilla Indian Reservation.
This quarter's Community Fund awards went predominantly to education projects. Public safety and health projects received the second and third highest funding in this round of grants.
Twelve education projects received $162,000 while $104,000 went to five public safety projects and $90,000 went to eight health projects. Also, $20,000 went to one Arts and Culture project and the last $12,000 went to two environmental preservation projects.
Among those funded was a $25,000 grant to the Boys and Girls Club of Corvallis for a teen drop-in center helping with college readiness for low-income youth.
"This will help us continue to expand our high school teen program," said club Chief Executive Officer Helen Higgins, "and keep working on (improved) graduation rates and getting kids into community colleges and universities."
With 35 currently in the program, Higgins said she hopes the grant will bring the number served up to more than a 100.
"There are so many people who need help in our communities right now because of the slow economic recovery," said George. "It is good for our Tribe to be able to help our neighbors by partnering with non-profit groups that provide such needed services to families."
A $5,000 grant will help Eugene-based Downtown Languages, a GED readiness program, reach as many as 45 students through June 2012, more than double the 20 it has been reaching. This is the 8-year-old group's first grant from Spirit Mountain Community Fund.
Tribal members Travis Mercier and Marcus Gibbons led the kindergarten Chinuk Wawa immersion class in a welcome song with drumming. Tribal Council member Steve Bobb Sr. gave the invocation and Tribal Council member Toby McClary welcomed the group.
Following are the rest of the grantees:
Beaverton Rotary Foundation Inc., $10,000;
Centro Cultural of Washington County, $10,000;
Chelsea Hicks Foundation, $5,000;
Children First for Oregon, $25,000;
Children's Vision Foundation, $5,000;
Dallas Booster Club Inc., $5,000;
Dinner and a Movie, $4,700;
Ecotrust, $10,000;
Friends of Opal Creek/Opal Creek Ancient Forest Center, $10,000;
Head Start in Lincoln County, $10,000;
Lane County Legal Aid & Advocacy Center, $30,000;
Loaves and Fishes, $25,000;
National Indian Child Welfare Association, $10,000;
Native Wellness Institute, $25,000;
Neighborhood House, Inc., $25,000;
Open Door Counseling Center, $7,500;
Operation Nightwatch - Portland, $5,000;
Oregon Progress Forum, $25,000;
Playworks Education Energized, $10,000;
Portland Gay Men's Chorus, $20,000;
Portland State University Foundation, $9,000;
Raphael House of Portland, $10,000;
Salem Folklore Community, $5,000;
St. Andrew Legal Clinic, $35,000;
And the Friends of the Straub Environmental Learning Center, $2,000.