Tribal Government & News
Works begins on Phase II of Elder housing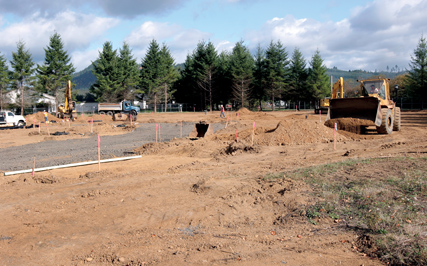 The Grand Ronde Tribal Housing Authority expects that the new development of 23 Elder homes, which have designs making new units easier to use and more comfortable to live in, will be completed next summer.
The build-out has started between the existing Elder housing units and the Governance Building, displacing some of the trees there, but keeping a country feel in the new neighborhood.
The project is funded with "maximum development costs" of $5.6 million in federal Indian Housing Block grants, according to Housing Authority Executive Director Carina Kistler. The funding requires "modest design," but provides funding for infrastructure and many "soft costs."
The new homes will include 10 duplexes with two two-bedroom homes in each; and one triplex housing three three-bedroom "Grandfamily" units.
"We're really excited to be able to serve all of the Elders on our waiting list," Kistler said.
"The other thing that's exciting is the Grandfamily unit where grandparents raising grandchildren will have a design tailored to their particular household situation. No stairs for the adults, and a special room for kids."
The new homes will have no-step entryways for safety, with redesigned kitchens for easier use, separate utility rooms for washers and dryers, accessible showers and lower ceilings to keep the rooms warmer.
Energy efficient heat pumps will be used to heat and cool the homes and each unit will have an enclosed single car garage.
The project's general contractor is Corvallis-based T. Gerding Construction and the project manager is Albany-based Reece & Associates. Both have previous experience on Grand Ronde Tribal projects.
"It's going to be a wonderful community," Kistler said.
The expansion will complement the 38 rental units that have been previously built west of Grand Ronde Road to house Tribal Elders.