Health & Education
Tribe makes Mondays count for Tribal youth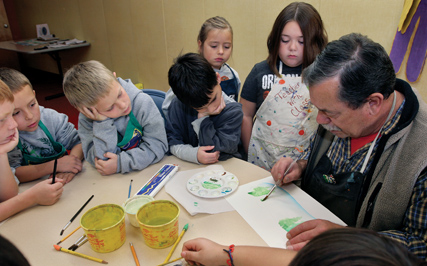 The Grand Ronde Tribe's Education Department has turned a funding shortfall at the Willamina School District into an opportunity for students at the Tribe.
Earlier this year, the lack of funding forced the Willamina district to sell its middle school in Grand Ronde and to close its remaining schools on Mondays. The Tribe, of course, purchased the middle school and Tribal Council has made it available on Mondays to the Tribe's Education Department.
At the same time, the Tribe is building an addition at Youth Education that has temporarily reduced classroom space there.
"We've traditionally had all-day programming on no-school days," said Matt Bucknell, Youth Education-Elementary K5 Lead. "We knew we'd have to pick up the pieces and give the students a full day of enrichment in a school setting (when Willamina shortened its school week).
"We realized that it was going to be a real unique time. During afterschool, we only have an hour to work with the kids."
Since the beginning of the school year, Mondays have included painting classes with Tribal Elder and professional artist Richard Fenwick; science sessions focusing on aerospace and aviation education with Evergreen Aviation Museum teacher J.R. Pollnow; cultural language, singing and canoeing activities with Cultural Resources staffers; and even Chess Club.
Students also bring their bicycles and scooters to the Monday sessions. There is plenty of room outside and time to ride.
"If they are coming from troubled homes or have issues, they can start with a clean slate here," said Fenwick, who also teaches art in Bethany, Woodburn, Dallas and Salem. "I build them up."
Tribal member Hattie Mercier, 6, ran up to Fenwick with her cat and moon coloring book page, showing what she'd done. "Look at this," she said.
"When you get a kid that comes up and shows their work with a smile," said Fenwick, "that's what it's all about."
"You can't go wrong with art," Fenwick said. "We have what we call 'happy accidents.' If a kid spills water on a project, we ask, 'What can we do with that?' It gives them confidence to make things work even outside of class."
Some 25 K-5 students and 15 to 20 middle and high school students have been participating.
"We had 64," Bucknell said, "when we went to Heiser's pumpkin patch."
The department also has leveraged its opportunities by bringing in high school interns, like Tribal member Tiffany Tonso, a senior at Willamina High School, to work with the younger students.
Tonso sees the work as "an opportunity to grow in my culture with my community. I really enjoy working with the kids. It's definitely a way to be a part of something good."
Outgoing Youth Education Coordinator Molly Matthews has used the time to hold cooking classes with the help of Tribal member and Food Service Coordinator Kristy DeLoe, students are preparing lunches for the Monday classes.
They get a head count, said Bucknell, then shop for food and prepare it for the students.
"This is real world experience," said Bucknell. "When kids eat the food, they can see the older kids that prepared it for them, and it kind of builds a bond."
On a recent Monday, Tribal member Codie Haller and community member Raven Harmon prepared grilled cheese sandwiches and tomato soup. Sometimes the lunches are more exotic.
The addition of some ethnic foods to the lunches has been a bonus, Bucknell said. "For some, this may be the first time they've tried a certain spice or food," he said.
This special time and place for Education will come to an end at the beginning of 2012 when the Youth Education Building addition should be finished and the Willamina School District will again have funding to return to a five-day school week.
"It's pretty fun," said Tribal member Audrey Mercier, 7. "I like doing fun stuff like art."
"Youth and staff want to thank Tribal Council and the Facilities staff for making this space possible," Bucknell said.