Culture
Archuleta shares Grand Ronde ways with Food Policy Council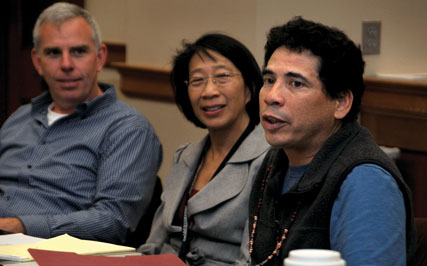 Tribal member Greg Archuleta introduced the Grand Ronde Tribe to the Portland/Multnomah Food Policy Council at Portland City Hall in mid-September.
"I'm just sharing information," said Archuleta. "Educating."
As cultural consultant for the Tribe, Archuleta's introduction included Grand Ronde history and a few ikanum (historical Native stories), summarized because that same tradition only allows the stories to be told in winter.
He described traditional ways and Portland places where local Indians gathered, fished and hunted, and how Natives prepared such staples as camas and wapato. He also described the Tribe's success in forging partnerships among the parties involved in the Superfund cleanup of Portland Harbor, for example.
Archuleta also has forged partnerships among Food Policy Council members Anita Yap and David Barmon.
Yap is chairwoman of the Food Policy Council and Deputy Executive director of Home Forward, formerly the Housing Authority of Portland.
Her interest in Native food ways came up during Native conferences she has attended.
"What I find really inspirational is how they are weaving historical culture into modern-day politics and programs," said Yap. "The way they keep it a powerful component. It's an inspiration for a lot of people."
Barmon is a first-term Food Policy Council member and co-owner of Fiddlehead Landscapes, which focuses on native plants and sustainable development.
Barmon also is a driving force for the Mabelville Garden Project at 90th and Burnside in Portland, across the street from his home, where the group has prodded the city of Portland into planting native white oak trees along a 50-foot wide, two-and-a-half-block stretch of vacant land "with plenty of potential," as Barmon says.
He has been talking with Archuleta for six years about growing native plants in the city.
At one time, Barmon said, he "had no idea who was here" before Europeans, but his work led him to Native plants. One discovery was the Native success with sustainability over thousands of years and that opened up a world that has captivated him since.
One of his projects is a set of policy recommendations for the Food Policy Council "promoting awareness and use of wild foods" across the urban landscape.
"The lifestyle," Barmon said, "is not just for Native people. Everyone should have a Native lifestyle.
"We can still do the same things Native people do. We have a lot of land and can plant a lot of these plants. We can create opportunities to hunt and fish.
"I've been wanting to say something in an official way. My hope is next term to have a set of policies (reflecting the city's support for making information available and wild food accessible) that can be used here and elsewhere."
The effort has the support of Steve Cohen, manager of Food Policy for the Portland Bureau of Planning and Sustainability, the agency to which the Food Policy Council reports. Cohen also is a member of the Food Policy Council.
"I'll support these efforts," Cohen said. "The question is how do we take these ideas and put them into policy?"
Many people are working on it, said Yap, also a food activist in the community. "We're policy-oriented, but in their other lives, (the people on the council) do project work. There are a lot of networking opportunities."
It was with this kind of networking in mind that Yap and Barmon invited Archuleta to the Food Policy Council meeting on Sept. 14.
"We're trying to do more outreach," said Yap.
The council already is made up of representatives from Mayor Sam Adams' office, food co-ops and food banks, sustainability offices in business and government, public health offices, public markets and culinary schools.
During the meeting, Archuleta and Yap discovered they each had graduated 30 years ago from Reynolds High School in Troutdale.
"I hope it won't be another 30 years before we meet again," said Yap.
"Foods justice has become a real big issue for the whole community," Yap added. "We're really trying to look at the population and be thoughtful and intentional about how we look at food issues."
The council focuses on "food systems, access and justice," she said.
"We'll see," Yap said, "if there are more opportunities (for the council) with Greg. We'll be having conversations."