Health & Education
Community College opening new McMinnville campus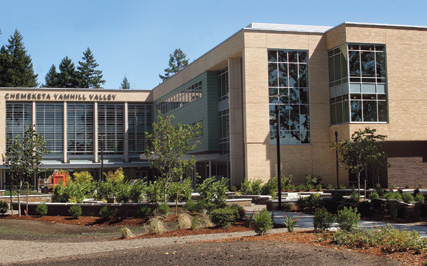 Chemeketa Community College's new Yamhill Valley campus will almost triple in size this fall as it opens a three-story building on Three Mile Lane in McMinnville across from Willamette Valley Medical Center.
With state-of-the-art science labs, smart classrooms, computer centers, a cafeteria and parking, the new facility replaces the college's former McMinnville campus on Northwest Hill Street.
Last year, about 60 Tribal students attended Chemeketa, said April Campbell, a Tribal member and manager of the Tribal Education Department.
"I think the biggest advantage is that the new facility allows the McMinnville Chemeketa campus to offer more classes," said Campbell. "That will really help our students who are living in McMinnville and seeking a transfer to a four-year institution.
"Prior to the new facility, students working toward transfer degrees traveled to the main campus in Salem for some coursework. The new facility and course offerings will give students the ability to earn a transfer degree without leaving McMinnville."
Classes scheduled for Fall 2011 in the new building cover many disciplines, including "Understanding Art," "Human Evolution," "Introduction to Business," "General Biology," "Introduction to Fiction," "Cycling (at all levels)," "History of World Civilization" and "The Psychology of Human Relations."
The new building holds 550, allowing Chemeketa to accommodate as many as 1,600 full- and part-time students in McMinnville every year, the college reported on its Web site.
Fall classes begin Monday, Sept. 26.
Students interested in studying at the Yamhill Valley campus can preview the courses for the coming semester at www.chemeketa.edu or call 503-472-9482. Classes are filling up quickly, the college advised in August.
Chemeketa also has facilities in Salem, Brooks, Dallas, Eola and Woodburn, and offers training for public safety, business and viticulture professionals.
The Grand Ronde Tribe also offers classes at the Tribal campus through Chemeketa Community College.