Tribal Government & News
Program helps Tribal couple buy first home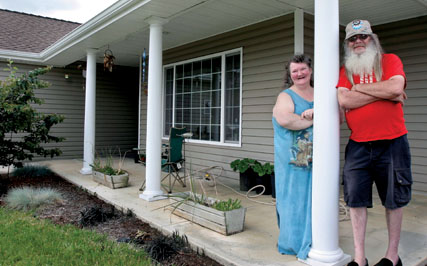 Smoke Signals staff writer
Tribal Elder Edwin Ashman and wife, Ellie, have moved into the first home they have ever owned. Before the new place made them a Dallas couple in June, they rented a house in Sheridan for 25 years, raising seven children.
On and off for most of that time, they were looking for a place to buy and, according to Ellie, it was always this place in Dallas they were looking for.
Ed has been coming to see Nancy Holmes, Tribal Housing Authority's Homeownership coordinator, periodically since she started working for the Housing Authority 17 years ago.
"It just didn't work out those times," said Holmes. "He used to come in and talk about getting a house. There were many episodes. One house burned down before they got to buy it."
In the past, the Down Payment program that Holmes administers has assisted as many as 100 Tribal families in one year's time. This year, the program has completed almost 20 down payment awards, many with the federal Housing and Urban Development Department 184 loan program.
The 184 program was originally written to allow Indians to purchase homes on Tribal trust land, said Holmes. "But that changed a few years ago so that now the 184 loans also can be used for down payments off Tribal trust land," she said. "They also now provide refinancing for Native Americans enrolled in a federally recognized Tribe," although the Grand Ronde Tribe does not have a program for that service.
"There's a lot of opportunity out there," Holmes said.
Holmes works "from application to closing" with Tribal members purchasing a house with the 184 program, and just about any other type of loan.
"I review their applications and approve their grants," she said. "Then, I'm working with all the documents, and hand-in-hand with lenders, the title company, escrow officers and realtors to get the sale to closing.
"If they're not ready, I'll let them know, (for example), that they have to get better credit or stay in a job longer.
"I have probably the best job at the Tribe because I get to see people come in, and through this grant, I get to see them change their whole life."
Only a few months ago, said Ellie, the rent increased dramatically at their house in Sheridan.
"We thought, 'We could make a house payment for that,' " Ellie said. The family started looking into buying a house once again. They visited a Windermere Realty open house.
"It has been a really smooth process," said Windermere Realtor Cheri Jacobsen on Friday, June 10, the day she turned the keys over to the Ashmans. "It required so many different transactions, but this one has gone off without a hitch."
And the new house payment, said Ellie, is $80 less than the cost to rent in Sheridan.
Longtime Tribal housing lender Valerie Harjo, who sat on the Grand Ronde Tribal Housing Authority's Board of Directors from 2003-06, represented Wells Fargo Home Mortgage, the bank in the deal.
Harjo, a specialist in the HUD 184 program, is another impressed by the way buying a home changes lives.
With the 184 program, Harjo facilitated the first loans for the Tribe's Grand Meadows development.
"Some were homeless before we got them through the 184 process," she said.
There is a lot more paperwork needed for a 184 loan, says Harjo, and "there's not enough money in these deals for a lot of loan officers, but they miss out on the real soul of this business."
"Over the years," said Ellie, "I have been drawing pictures of the home I wanted, and this is it. The hillside. The pillars. The oval glass in the front door."
When the family came to see it the first time, everybody loved it.
"They all knew I had this dream," said Ellie.
Ask Ellie what made it possible after all these years.
"The Lord," she says. "And Wells Fargo."
"Every time I go by a Wells Fargo," said Ed, "I smile."
"This is a labor of love for me," said Harjo.
"It took going back a few times," said Harjo of the Ashmans' purchase. "But Ed and Ellie were putting everything into it. The requirements put some people off, but not Ed and Ellie. You could say, 'Hard work made it go easy.' It's very rewarding. That's why I do this."
Many Tribes and Tribal people do not know about the program, Harjo said. It is "the best purchase loan out there: 2.25 percent down payment. No mortgage insurance. Non-traditional credit is possible. And no credit score is OK. These loans have less foreclosure rates than traditional loans. They're never a sub-prime loan. They're conservatively written, meaning it's not a loan for people who can't afford it. There are a lot of requirements, but they are not things you can't overcome."
Still outside on the driveway and heading up the front walk, there was some discussion about finding a nail to put a wooden cross up in the house first thing. A stray screw, at last, turned up.
Accompanying the Ashmans as they stepped across the threshold for the first time as owners were co-pastors of the Dallas New Life Nazarene Church, Kerry Lumley and his wife, Marcelina, and Ashman friend Pete Nairn.
In blessing the house, Pastor Lumley said he hoped that in years ahead, the Ashmans could look back and say, "That was a home, and it was a blessing."
Inside, Ellie pointed out a whole new list of benefits in the new house.
"Ed and I are getting older," she said. "There are no stairs here. It's wide open, in case somebody needs a wheelchair."
"I'm just in a dream right now," said Ed. "I want to thank everybody. My big thanks go to Valerie Harjo, Cheri Jacobsen, the Confederated Tribes of Grand Ronde Housing Authority, Vicki (Jones, Housing Authority Administrative assistant), Nancy (Holmes), (Tribal Elder) Margo George (who, over the summer, was temporarily secretary for the Housing Authority), our minister and, most of all, God, for this wonderful gift, and most of all, my wife because of who she is.
"Welcome home, Mama!"