Culture
Tribal Elder Jimi Simmons walks on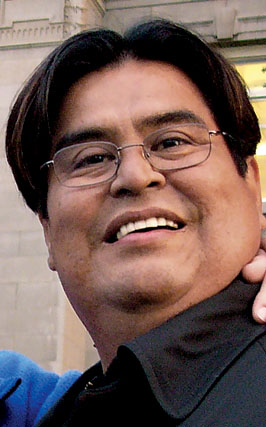 James Marvin Simmons
Nov. 19,1951 - April 13, 2011
Tribal Elder James Marvin Simmons, also known as Jimi "Dexter" Simmons, walked on at the age of 59 on Wednesday, April 13, 2011, in Mountain View, Calif. He was a longtime resident of the San Francisco Bay area. The cause of death is unknown although it is believed to be respiratory complications.
Jimi Simmons was born Nov. 19, 1951, in Dallas, Ore. He was one of 13 children from Marie and Edgar Simmons, who met as two students at Chemawa Indian School. After the federal status of the Confederated Tribes of Grand Ronde was Termination in 1954 and the Simmons family was forced to separate, Jimi grew up in an institutionalized childhool, including St. Mary's Home for Boys, Children's Farm Home, McLaren and, later, the Oregon State Reformatory. At McLaren, the whispers among the boys was to make it to the river to be free, but finding freedom would not happen for a while.
James and his brother, George Simmons, were charged with murder of a Washington prison guard in June 1979. They both faced the death penalty. What ensued was a successful class action prisoner lawsuit against the state of Washington for violation of prisoners' rights. George Simmons was found guilty in 1980. Jimi Dexter Simmons was acquitted with the help of famed social justice attorney Leonard Weinglass, who defended Angela Davis, Daniel Ellsberg, Skyhorse and Mohawak, and Mumia Abu-Jamal, and from the support of the Simmons Brothers Defense Committee.
In the same year that Jimi Simmons was paroled by Washington Corrections, Grand Ronde was reinstated as a Tribe in 1983 and a new life began. Jimi needed to live outside the institution, but he was raised within its codes. He had almost no experience on the outside.
He married Karen Rudolph, the organizer of his Defense Committee, on Sept. 18, 1987. Jimi continued to be an activist and he supported many social justice and Native American organizations.
Karen and Jimi adopted Arthur Kalif Simmons (Hualapai) and Jay Ghost Simmons (Oglala/Lakota) and built a home in Los Altos, Calif., always trying to get three lives out of one. Jimi worked as a journeyman operating engineer. He loved construction. Jimi volunteered to stay home with the boys while Karen went to law school.
Never forgetting those behind the walls, Jimi Simmons went to California and Washington prisons to visit Indian inmates and advocated for American Indian religious freedom inside prison. He supported many indigenous rights organizations, such as the American Indian Friendship House, American Indian Film Festival, American Indian Movement, Bay Area Diabetes Coalition and the Brotherhood of the American Indians.
Jimi Simmons retold his story in the 2008 autobiographical film, "Making the River." Jimi won the Eagle Spirit Award and the Top 10 Bay Area Dads Award.
He is survived by his wife, Karen M. Rudolph; two sons, Arthur Simmons and Jay Simmons; brothers, Frank Simmons, Tyrone Simmons Sr., Robert Simmons Sr., Joe Simmons and John Stevenson; sister, Renee Simmons; as well as numerous nieces, nephews, counsins, in-laws and out-laws.
He was preceded in death by his mother, Marie Daniels Simmons (Muckleshoot/Yakima); father, Edgar Simmons (Grand Ronde); and siblings Ramona, Gloria, Raymond, George, Mike and John Simmons.
A memorial dinner will be held 5:30 p.m. Monday, April 25, and there will be a showing of "Making the River" at the Grand Ronde Tribal gym. The program is hosted by the Grand Ronde Youth Prevention Program and Grand Ronde Canoe Family.
Funeral services will be held 11 a.m. Tuesday, April 26, at the Grand Ronde plankhouse Achfa-hammi. A community meal and giveaway will follow in the Elders' Activity Center.
Marlene Cross (Muckleshoot/Puyallup), Bobby Mercier (Grand Ronde) and Kevin Simmons (Grand Ronde/Muckleshoot) will officiate and pallbearers will be Donnie Stevenson, Keith Stevenson, Tyson Simmons, Tyrone Simmons Jr., Robert Simmons Jr., Wes Dilling, Kevin Simmons, Jeff Simmons, Max Simmons and Landon Simmons.
Honorary pallbearers are Allen Rudolph, Arthur Simmons, Jay Simmons, Robert Simmons Sr., Frank Simmons, Tyrone Simmons Sr., John Stevenson, Joe Simmons and Phil Lane Jr.
Arrangements were made by Adamson's Sheridan Funeral Home.
In lieu of flowers, donations can be made in honor of Jimi Simmons to Bill Wilson Center, 3490 The Alemada, Santa Clara, Calif., 95050, or The InterTribal Friendship House, 523 International Blvd., Oakland, Calif., 94606.
"To us, if you made the river, that was freedom. I guess I finally made that river." - Jimi Simmons in "Making the River."
For more information, contact Tyrone Simmons Jr. at 253-335-5357.