Culture
Tribe purchases 139 acres of original reservation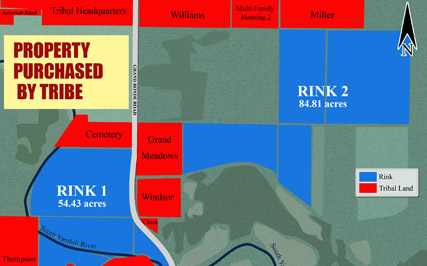 Smoke Signals editor
The Confederated Tribes of Grand Ronde has regained ownership of more than 139 acres of the original reservation by purchasing eight tax lots owned by the Rink family.
"This is a big one," said Tribal member and Tribal Lands Manager Jan Michael Reibach. "The Rink family purchased this property after the Termination of the Tribe and now the Tribe has purchased it back."
The purchase, which closed Feb. 28, was the culmination of a dozen years of discussions between the Tribe and Rink family, Reibach said.
"The Tribe tries to maintain a focus of acquiring land at a good, fair market value price," Reibach said. "In the end, the Rink family was very gracious and fair to the Tribe."
The properties are just south of the Tribal Cemetery on the west side of Grand Ronde Road and immediately east and northeast of the Grand Meadows development on the east side of Grand Ronde Road.
Reibach said the Tribe has already executed a 2011 hay license agreement on more than 80 acres of the property to the east of Grand Ronde Road and is receiving rent from the existing tenant of a house located on the property immediately south of the Tribal Cemetery on the west side of Grand Ronde Road.
"Even though this acquisition was primarily driven for land consolidation purposes, it will immediately generate additional income for the Tribe from the hay fields and home rental," he said.
In addition, Tribal representatives are surveying the properties to determine if there are any potential cultural assets located on them.
Reibach thanked numerous Tribal departments for assisting in the negotiations and purchase, including Finance, the Tribal Attorney's Office, Executive Office and Tribal Council.
"Congratulations to everyone for all the work in getting our lands back," he said.
Reibach said the properties would be placed on a list of Tribal lands that need to be taken into trust with an application to be filed within the next 12 to 24 months with the Bureau of Indian Affairs.