Tribal Government & News
Tribe honors 39 for years of service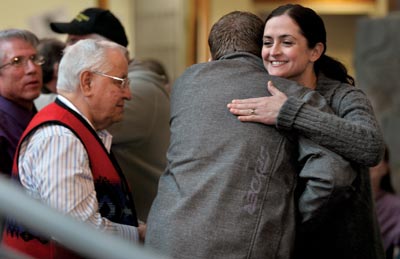 Smoke Signals editor
The Confederated Tribes of Grand Ronde honored 39 employees who, together, account for 532 years of service to the Tribe on Wednesday, Jan. 26.
Among the 39 who were honored are the two longest-serving Tribal employees ever. Tribal Elder and Tribal Wellness Manager Bonnie Mercier and Tribal member and Tribal Health & Wellness Business Office Manager Terri Mercier both reached the 26-year mark of working for the Tribe.
The Tribe hired Terri Mercier on Oct. 1, 1984, and hired Bonnie Mercier 15 days later.
Last year was the first time any Tribal employee reached the 25-year mark, Tribal Human Resources Director Walter Kalinowski said, so it only goes to say this is also the first time any Tribal employee has reached 26 years of service as well.
On their heels is Tribal Elder and Tribal Self-Governance Coordinator Janell Haller, who reached 21 years of service.
Also moving into the two-decade club are Tribal member and Tribal Director of Program Operations John Mercier, Tribal Elder and Tribal Librarian Marion Mercier and Alcohol and Drug Counselor Karan Scharf.
Tribal Elder and Tribal Facilities Program Manager Mike Larsen notched his 19th year of service and Tribal member and Tribal Facilities Maintenance Supervisor Douglas Colton completed his 16th year with the Tribe.
Reaching their 15th year were Tribal member and Information Systems Manager Trevor Aaron, Tribal member and Indian Child Welfare Unit Supervisor Dana Ainam, Health Information Technician Dena Freeman, Tribal member and Shipping and Receiving Clerk Jerry George, Member Services Administrative Assistant Hollie Mercier and Custodial Maintenance Supervisor Curtis Rentsch.
Tribal Ceded Lands Coordinator Michael Karnosh attained 14 years of service while Health Information Technician Joan Shoemaker and Dental Assistant Donnette Spaulding surpassed 13 years of service.
Lead Health Information Technician Lillian Engle now has more than 12 years of service while Senior Help Desk Technician Larry Remington and Chinuk Wawa Teacher/Language Specialist Crystal Szczepanski were honored for 11 years of service.
Hitting the decade mark of employment were Staff Attorney Lisa Bluelake, Health & Wellness Administrative Assistant Jill Hafliger, Health & Wellness Business Office Assistant Michelle Masters, Planning & Grants Development Manager Kim Rogers and Tribal member and Procurement Department Lead Shipping & Receiving Clerk Nathan Rolston.
Housing Improvement Coordinator Don Coon and Optometrist Charlean White reached nine years while Tribal member and Forest Patrol Officer Jake McKnight and Tribal member and Tribal Web Designer Willie Mercier hit eight years.
Tribal member and Tribal K-5 Teacher/Chinuk Wawa Kathy Cole and X-ray Technician Donna Todd were honored for seven years on the job while Early Headstart Teacher Shawn Bobb and Tribal member and Cook Rebecca Goeserich reached the six-year mark.
Newcomers to the event with five years of service were Tribal member and Public Affairs Administrative Assistant Kristen Ravia, Early Head Start Teacher Jessica Cruikshank, Housing Improvement Coordinator Loyal Hamilton, Indian Child Welfare Investigator John Genera Jr. and the Gaming Commission's Audit/Compliance Manager Rose Smith and Tribal member and Background Investigator Trina Pesterfield.
In addition to the years of service awards, Education Division employees Matt Bucknell, Matthew Zimbrick and Tracy Biery were honored for going above and beyond the call of duty, as was the entire Medical Records staff at the Health & Wellness Center for preparing paper records for electronic conversion.
Tribal Council members Reyn Leno, Toby McClary, Steve Bobb Sr., Chris Mercier, Wink Soderberg and Jack Giffen Jr. attended the ceremony to congratulate employees for their years of service.
With the retirements and departures of several long-time employees in 2010, the five longest-serving Tribal employees are now Terri Mercier, Bonnie Mercier, Gregg Leno, Jeff Kuust and Jeff Nepstad.