Tribal Government & News
Asghar joins Tribal economic development effort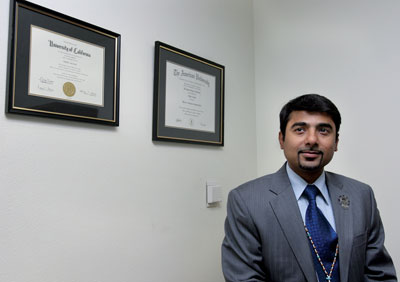 Name: Sajeed "Titu" Asghar.
Age: 38.
Family: Married to wife, Shahida; two sons, ages 5 and 3.
Birthplace: Bangladesh.
Education: Graduated from the University of California in Santa Barbara in 1999 with a bachelor's degree in International Affairs; received a master's degree in International Affairs: Political Economy from School of International Service, American University, in Washington, D.C., in 2003; received MBA in Finance from the Kogod School of Business, American University, in 2003.
Previous experience: Worked for the San Manuel Band of Mission Indians as Special Projects Manager and Investment Lead from May 2005 until January 2011.
Contact Info: 503-879-2200 or titu.asghar@grandronde.org.
Smoke Signals editor
There's a black Ford Mustang parked in front of the Tribal Governance Center with a personalized California license plate that reads "Titu."
It belongs to the Tribe's new Economic Development director, Sajeed "Titu" Asghar, who has been on board since Jan. 17 and is tasked with helping Tribal Council and Tribal staff determine where Tribal economic development efforts proceed.
Titu, as he likes to be called, joins the Grand Ronde Tribe after having worked for the San Manuel Band of Mission Indians in Southern California since May 2005, where he was the Special Projects Manager and Investment Lead for the Tribe's Investment Board.
He says he left San Manuel to seek new challenges and opportunities.
Titu says he was attracted to the Grand Ronde Tribe because of the initial contacts he had with Tribal member and Tribal Director of Development Peter Wakeland and Tribal Human Resources Director Walter Kalinowski.
"My first exposure to Grand Ronde was Walter and Pete, and the kind of questions they were asking me. I was very impressed by that," Titu says in his office in the Tribal Finance Department.
"I have done a lot of interviews in my career and no one really focuses on 'What do you do?' Everyone focuses on the team environment. 'Can you work as part of a team?' Walter was the first person to ask, 'Titu, yeah, you've done great things as part of a team. But what have you done?' "
Titu says one of the successes he cited was his work with the San Manuel Tribe on a real estate development where he established policies, procedures and the budget for a successful $40 million, five-year project.
Titu says his early economic development work at Grand Ronde will involve finding consensus among Tribal Council regarding economic development. He is currently interviewing individual Tribal Council members to establish a common ground.
"The process we are focusing on now is to bring everybody together to come to a consensus," Titu says. "I'm spending time interviewing Tribal Council members to really establish a platform. That's where we are at. … The funny thing is, they are all saying the same thing, just in different ways."
Ultimately, Titu says, he wants Tribal Council and Tribal staff to speak the same language, have a common understanding of Tribal economic development goals and be able to defend economic development decisions.
"What we are trying to do is help develop a policy, some objective criteria which will help us make decisions on where the Tribe wants to go," Titu says.
Parameters the Tribe needs to consider are numerous: Does it want to invest in a company? Does it want its economic development to have cultural components? Does the Tribe want to participate in collaborative efforts with other Tribes? And there are many other factors to consider.
"These are the kinds of things I am helping them focus on," Titu says.
Titu was born in Bangladesh and his family immigrated to the United States in the early 1980s. He is a naturalized U.S. citizen who grew up all over the world, attending boarding schools in Japan, Hong Kong, Malaysia, Singapore, India and England.
Although his father owns a successful shipping business, he declined an offer to take it over and wanted "to make my own mark."
During his family's transition to Oregon, Titu is living in Dallas, awaiting the arrival of his wife and two sons in April.
"My wife will decide where we live," he says.
Titu says he wants to reach a point where Tribal Council and Tribal staff are educated and know the objective reasons why the Tribe pursued a particular economic development course.
"The worst thing I can do is get something done and have them not understand it," he says. "I want them to know exactly why they are doing it. They need to know why they are doing it, and that is defensible."
Titu adds he looks forward to the challenge of helping the Grand Ronde Tribe diversify.
"I am really enjoying Oregon and the Tribe," he says. "I came from a very affluent Tribe and I strongly believe that Grand Ronde is going to get there. That is my personal belief and I want to be part of that growth. I want my name involved there. It's a personal thing for me.
"It's easy to make money when you have money, but how do you make money when you are struggling? We have good ideas and very good people who are willing to work hard. If we can capitalize that and funnel their strengths and energies for the right cause, I see this Tribe becoming very progressive."
"I believe that we have selected a very talented man for the job," Wakeland said. "I look forward to working closely with him where community development and economic development overlap."
And Titu?
He received the nickname from his paternal grandmother when he was a child.
"In my culture, we all have nicknames," Titu says. "It's easier."